The U.S. State Department has approved a potential $500 million sale of six M142 High Mobility Artillery Rocket System (HIMARS) launchers to Estonia as well as a $950 million deal with Norway for AIM-120 Advanced Medium-Range Air-to-Air Missiles (AMRAAM).
The Defense Security Cooperation Agency (DSCA) notified Congress on Friday of both foreign military sales.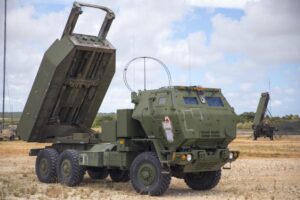 Along with the Lockheed Martin [LMT]-built HIMARS launchers, Estonia would also receive GMLRS rockets, including 36 of the extended range version of the capability, and ATACMS missiles.
"The proposed sale will contribute to Estonia's military goals of updating capability while further enhancing interoperability with the United States and other allies. Estonia intends to use these defense articles and services to modernize its armed forces and expand its capability to strengthen its homeland defense and deter regional threats," the DSCA wrote in a statement.
The U.S. is currently providing Ukraine with HIMARS launchers, with 12 systems committed to date as of the latest $400 million weapons package to aid in Kyiv's ongoing fight against Russia's invasion (Defense Daily, July 8).
For Norway, the FMS case covers up to 205 of Raytheon Missiles & Defense's [RTX] AIM-120D AMRAAMs, up to 60 AIM-120C8 AMRAAMs and four AIM-120D guidance sections.
"The proposed sale will improve Norway's capability to meet current and future threats by providing advanced air-to-air capability for its F-35A fleet, enabling it to fulfill NATO missions and meet U.S. European Command's goal of combined air operations interoperability and standardization between Norwegian and U.S. forces," the DSCA wrote.