The latest meeting of a new U.S.-led group to coordinate international military aid efforts to Ukraine included Denmark detailing plans to provide Kyiv with Harpoon anti-ship missile systems and several countries announcing new donations of "critically needed artillery systems and ammunition," Defense Secretary Lloyd Austin told reporters.
Austin detailed the second meeting of the new Ukraine Defense Contact Group, held virtually on Monday, which included about 20 countries announcing new security assistance plans and hearing directly from Ukrainian defense leaders on the country's immediate needs in its fight against Russia's ongoing invasion and long-term security requirements.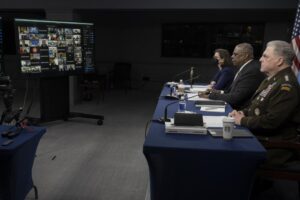 "After today's discussions, I'm pleased to report that we're intensifying our efforts. And moving forward, we'll continue to deepen our cooperation and coordination so that Ukraine can sustain and strengthen its battlefield operations. Our combined efforts will also fortify and modernize Ukraine's armed forces to help them deter future Russian aggression," Austin said at a press briefing following the meeting. "We had several important conversations today about the latest battlefield conditions, about progress toward meeting Ukraine's priority requirements, about deconflicting security assistance deliveries on the ground and about how to help Ukraine maintain and sustain the self-defense capabilities that we've all supplied."
The first meeting was held on April 26 at Ramstein Air Base in Germany, with Austin adding "the momentum of donations and deliveries has been outstanding" since bringing together his international counterparts to work on coordination efforts.
The group has now grown to 47 members, with Austria, Bosnia and Herzegovina, Colombia, Ireland and Kosovo joining the latest meeting, with the international group of defense ministers and chiefs having the opportunity to hear directly from Ukraine's minister of defense, the deputy commander in chief of Ukraine's armed forces and Ukraine's defense intelligence representative.
"We're delighted to have them aboard, and we hope to continue expanding this important gathering of allies and partners," Austin said. "We also heard some very welcome announcements this morning about even more security assistance for Ukraine. That includes some 20 countries that announced new security assistance packages. Many countries are donating critically needed artillery ammunition, coastal defense systems and tanks and other armored vehicles. Others came forward with new commitments for training Ukraine's forces and sustaining its military systems."
On Denmark's announcement, Austin said the Harpoon launcher and missiles will "help Ukraine defend its coast."
The countries announcing new donations of artillery systems and ammunition included Italy, Greece, Norway and Poland, according to Austin.
Austin also noted the Czech Republic detailed "substantial support," in the form of recent donations of attack helicopters, tanks and rocket systems, and pointed to the U.K's role in helping to coordinate security assistance efforts in Europe.
"Let me also recognize the United Kingdom for its leading role in helping to coordinate security assistance and for the significant quantities of British equipment that continues to flow into Ukraine," Austin said.
A third Ukraine Defense Contact Group meeting is scheduled for June 15 in Brussels around the NATO defense ministerial, Austin also announced.
"Of course it won't be a NATO event, but we want to keep up the tempo of these meetings and I wanted to use my travel to Europe to ensure that we're building on our momentum," Austin said.
President Biden on Saturday signed a new $40 billion Ukraine emergency aid supplemental funding bill, which includes $6 billion for the Ukraine Security Assistance Initiative to procure military equipment to send to Kyiv to aid in its ongoing fight against Russia's invasion, another $8.7 billion to help replenish stockpiles of U.S. weapons sent via drawdown authority and $3.9 billion to support European Command operations.
The State Department and Pentagon on May 19 also announced a new $100 million military equipment package for Ukraine, the 10th such drawdown of U.S. equipment, with the latest deal including 18 155mm howitzers, 18 tactical vehicles to tow the howitzers and three AN/TPQ-36 counter-artillery radars (Defense Daily, May 20).