The U.S. is planning to include an advanced air defense system as part of the next security assistance package to Ukraine, according to White House National Security Adviser Jake Sullivan.
Sullivan told reporters that President Biden informed the G-7 leaders at the group's summit in Germany, during a virtual meeting with Ukrainian President Volodymyr Zelenskyy, that the U.S. intends to finalize a package that will include advanced medium- and long-range air defense capabilities "along with some other items that are of urgent need, including ammunition for artillery and counter-battery radar systems."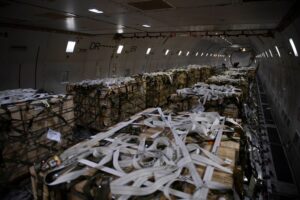 "I can confirm that we are, in fact, in the process of finalizing a package that includes advanced air defense capabilities. I won't get into the details of the system. I'll wait until the contract actually gets done," Sullivan said on Monday, according to a White House transcript of his discussion with reporters at the G-7 summit.
The update on a potential advanced air defense system delivery to Ukraine follows a CNN report that the U.S. is preparing to provide Ukraine with the Kongsberg and Raytheon Technologies [RTX]-built NASAMS surface-to-air missile defense system.
While Sullivan declined to specify the system the U.S. will be providing, he noted that Zelensky detailed specific military assistance requests to assist in aiding its ongoing fight against Russia's invasion, to include additional air defense capabilities.
"In particular, at the top of his mind was the set of missile strikes that took place in Kyiv and other cities across Ukraine, and his desire to get additional air defense capabilities that could shoot down Russian missiles out in the sky," Sullivan said. "So, President [Biden] was able to be positively responsive to him on that."
Last week, the U.S. approved another $450 million weapons package for Ukraine, which includes the second delivery of four High Mobility Artillery Rocket Systems (HIMARS) to fire precision-guided munitions (Defense Daily, June 23).
A senior U.S. defense official told reporters on Monday that training of Ukrainian troops on the latest HIMARS launchers is expected to begin soon and be completed within a few weeks.