NATO's new strategic concept will include highlighting challenges posed by China for the first time, according to a lead official, while retaining Russia as the alliance's "preeminent challenge, primary threat."
Ambassador Julianne Smith, the U.S. permanent representative to NATO, told reporters Wednesday the new strategic concept, set to be unveiled at the NATO summit in Madrid later this month, must do a better job of capturing the "China-Russia alignment."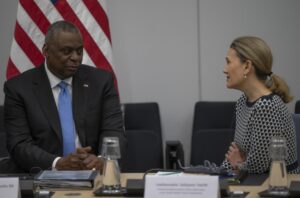 "Given what they're saying, given joint exercises, given the no-limits partnership, given what they have said in support of each other in this moment in Ukraine, I think there's a determination across the alliance right now to try to capture that strategic alignment somehow in the strategic concept," Smith said during Defense Writers Group discussion.
NATO's last strategic document, released in 2010, did not mention China, according to Smith, who said the last version also included "sorely outdated" language on Russia.
"Because of that you'll see a heavy emphasis on Russia right out of the gate at the top. For NATO, that is priority number one and will remain so for the foreseeable future. So you're going to see a heavy emphasis on things like deterrence and defense and the steps the alliance is willing to undertake to fortify," Smith said. "NATO was already in the middle of a transition working on enhancing deterrence and defense even before Russia took the decision to go into Ukraine. So this was going to be the focus irrespective of Russia's actions. Now, it will get more of a spotlight and be featured more prominently in the strategic concept because of its actions."
Smith said the upcoming NATO summit will also include participation from four Indo-Pacific partners, Australia, New Zealand, South Korea and Japan.
"Really for us it's about a shared experience. It's about sharing lessons learned, sharing new policies that we're developing. We've had a number of conversations about emerging and disruptive technologies," Smith said. "I don't think you're going to see any formal initiatives announced now but, again, there is a sense in the alliance that sharing with these Asia Pacific countries, sharing experiences, having them at the table benefits all of us."
Finland and Sweden may also participate in the summit, if their NATO applications are accepted in time, with Jens Stoltenberg, the alliance's secretary general, and U.S. Secretary of State Antony Blinken both saying they're confident the two nations will soon be accepted.
"Both countries are more than qualified to become full members of the alliance as soon as possible. By joining NATO, they will strengthen NATO. We look forward to quickly bringing them into the strongest defensive alliance in history," Blinken said during a joint press conference with Stoltenberg during the NATO leader's visit to Washington, D.C., this week.
Stoltenberg also announced he is planning to convene senior officials from Finland, Sweden and Turkey in Brussels in the coming days to work through ensuring Ankara's support for the new NATO applicants.
Army Gen. Christopher Cavoli, the nominee to serve as NATO's next top military general, told lawmakers last week he believes Finland and Sweden would bring "quite a bit of capability and capacity" if accepted into the alliance, adding he believes both countries could be integrated quickly (Defense Daily, May 26).
Blinken also previewed the agenda for the upcoming NATO summit and said the new strategic concept will reflect the "new security landscape in Europe and [Russian] President Putin's decision to launch a senseless war of aggression on Ukraine."
"We'll strengthen our relationships with the European Union and with partners in the Indo-Pacific. We will bolster NATO's budget. And we will renew our alliance's defense and deterrence capabilities," Blinken said.