The U.S. is planning to provide additional security assistance to Ukraine, but is assessing how to best deliver any potential equipment now that airspace is contested following Russia's invasion into the country.
"The situation, right, is different in Ukraine than it was just a few days ago. So it would follow, I would think, that we're going to have to look for other ways to do this. The airspace over Ukraine is contested. The Russians don't have superiority of it. It's contested," Pentagon Press Secretary John Kirby said during a briefing on Friday. "We are going to provide additional security assistance for Ukraine. We will. How that is going to be done is still being worked out."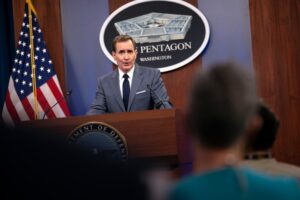 Kirby declined to detail specific equipment that could be provided to Ukraine as a part of any further security assistance deliveries.
"We're continuing to provide ways to defend themselves. That's as far as I'm going to go," Kirby said.
The U.S. has provided more than $2.7 billion in military aid to Ukraine since 2014 under the Ukraine Security Assistance Initiative.
In 2021 alone, the U.S. agreed to over $400 million in military support deals with Kyiv covering Javelin anti-armor missiles, counter-artillery radars, counter-drone systems, secure communications equipment and electronic warfare capabilities.
A large group of Republican lawmakers introduced a bill last week that calls for authorizing $100 million in emergency funds to provide Ukraine with additional capabilities such as air defense, anti-armor, and anti-ship systems (Defense Daily, Feb. 18).
Kirby said Friday the U.S. remains actively engaged in discussions related to lethal and non-lethal assistance that could be provided to Ukraine as it deals with Russia's ongoing invasion, while reiterating that details on specific equipment packages will likely remain limited due to security concerns.
"We're continuing to look for ways to support Ukraine to defend themselves. We have continued to do that and we're going to look to do that going forward. And we're very actively engaged in those efforts to help them better defend themselves with both lethal and non-lethal assistance. From the very get-go, I have not been detailing for any of you each and every package, each and every shipment. Because I think you can understand, and it's particularly relevant now that Ukraine is involved in a no-kidding invasion of their country, that we wouldn't want to put it out there in the public space everything they're getting from the United States. So we're going to continue to be judicious about how much detail we put out there," Kirby said.
The Pentagon on Tuesday detailed plans to move additional troops and equipment, such as F-35 strike fighters and AH-64 Apache attack helicopters, within Europe to support allies in NATO's eastern flank, in light of Russia's advancements (Defense Daily, Feb. 22).