The Marine Corps has awarded Northrop Grumman [NOC] a deal worth up to $252 million to produce its Next Generation Handheld Targeting System (NGHTS).
Northrop Grumman had been participating in a prototype program with the Marine Corps over the last several years to develop a device to replace its legacy trackers with a more lightweight, man-portable system.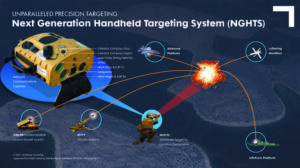 "NGHTS will significantly enhance the ability of Marines to identify ground targets under a wide range of conditions," Bob Gough, Northrop Grumman's vice president for navigation, targeting and survivability, said in a statement. "Connected to military networks, NGHTS can provide superior situational awareness and accurate coordinates for the delivery of effects from beyond the line of sight."
In December 2018, the Marine Corps awarded prototype Other Transaction Authority deals to Northrop Grumman, BAE Systems, Elbit Systems of America, and Fraser Optics to work on potential NGHTS solutions capable of rapidly tracking targets and generating target location data during combat operations (Defense Daily, Dec. 13 2018).
NGHTS is intended to replace the current Portable Lightweight Designator Rangefinder, Joint Terminal Attack Controller, Laser Target Designator and Thermal Laser Spot Imager.
The production contract to Northrop Grumman, officially awarded on Feb. 17, also includes testing, engineering services and logistics support, according to the Pentagon.
Northrop Grumman noted its NGHTS device uses high-definition infrared sensors to "provide accuracy and grid capability over extended ranges" and includes "a high-definition color display and day/night celestial compasses."