The Chief of Naval Operations (CNO) last week said he believes a fleet of over 500 ships is needed for the Navy to meet its commitments and the defense strategy by 2040.
"I've concluded, consistent with the analysis, that we need an ample force of over 500 ships," Adm. Mike Gilday said during a panel at the WEST 2022 conference on Feb. 18, co-hosted by AFCEA and the U.S. Naval Institute, in San Diego.
His view on carrier aviation unchanged, Gilday outlined the types and numbers of ships in reaching the 500 total.
"I think we need 12 carriers, I think we need a strong amphibious force to include probably nine big deck amphibs and another 19 or 20 [LPDs, amphibious transport dock ships] to support them. Perhaps 30 or so or more smaller amphibious ships to leverage maritime littoral regiments and the punch that they're going to provide from places inside, close inside the fight; to 60 destroyers and probably 50 frigates; 70 attack submarines and a dozen ballistic missile submarines, to about 100 support ships and probably, looking into the future, 150 unmanned," the CNO said.
Gilday later confirmed to reporters that "LCS was in that mix" with the frigate numbers.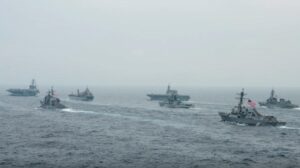 He said during the panel these numbers are grounded in force assessment work over the past five to six years "in really thinking about how we would fight, how we would fight differently in terms of in a distributed fashion across a wide vast ocean like the Pacific in terms of integrating all the [main platforms and forces] simultaneously and thinking about what the future fleet looks like."
Gilday noted the Navy and Defense Department looked at several force structure assessments in 2019 and 2020 and confirmed another is currently underway.
"The one that I've based my best advice on is the one that finished up in 2020 that we did along with the Marine Corps but it was actually led by OSD, and I found that to be an important stakeholder in that process because this wasn't just the Marine Corps speak or Navy speak or Department of the Navy speak, but it was much more broadly supported by OSD."
Speaking to reporters, Gilday confirmed these numbers are "grounded on" the 2020 Future Naval Force Structure Assessment numbers "but we're doing another force structure assessment right now that'll inform the 2024 POM."
Gilday also said his recommendation is informed by recent exercises like the International Maritime Exercise (IMX) 22 conducted by the 5th Fleet that used dozens of unmanned systems, centered around Task Force 59.
Last month, the U.S. 5th Fleet launched the biennial IMX 22, which included 10 countries bringing upward of 80 unmanned systems. Task Force 59 is an organization within the fleet created last year to help test and integrate unmanned systems and artificial intelligence into the Navy (Defense Daily, Feb. 2).
"I think that kind of naval force, that kind of distributed force is consistent with the analysis we see from the Joint Staff and OSD with the Joint Warfighting Concept…So in the long term I'm decided on a bigger, more capable Navy."