An Army official confirmed the service's future missile defense command platform is currently undergoing a second Limited User Test (LUT) ahead of planned fielding in 2022.
The Integrated Air and Missile Defense (IAMD) Battle Command System (IBCS) is currently "going through a second limited user test…that will end next month. A tremendous amount of teamwork has gone into this LUT," Lt. Gen. Daniel Karbler, head of the Army Space and Missile Defense Command, said during the virtual Space and Missile Defense Symposium on Aug. 4.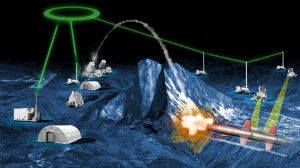 The IBCS testing was originally set for testing in the spring, but was delayed due to the COVID-19 pandemic. In June, prime contractor Northrop Grumman [NOC] said the LUT was planned for July.  The test is occurring at the at the White Sands Missile Range in New Mexico (Defense Daily, June 25).
Earlier this year, Karbler said this LUT is meant to demonstrate IBCS' ability to streamline the joint kill chain process for Army integrated air and missile defense by using an "any sensor, best shooter" approach to act as a "joint kill web" capability (Defense Daily, March 9).
Compared to when he participated in the first IBCS LUT five years ago, "it is day and night compared to its readiness for LUT," Karbler said.
He credited the difference to the teamwork between the various agencies and Army personnel working on it.
"It's a complex system. It's a new way of doing business and then put on top of that the challenges of doing a LUT in COVID-19…again the test is ongoing, we look forward to what the results will produce later on," Karbler said.
Karbler also noted the Army plans to field four next-generation Raytheon Technologies [RTX] Lower Tier Air and Missile Defense Sensor (LTAMDS) prototypes with the first IBCS-enabled Patriot battalion for developmental and operational testing in fiscal year 2022.
LTAMDS will replace the current Patriot system radars and he noted it will also be able to "support the full kinematic range of the Patriot [Missile Segment Enhancement] interceptor and enable sensor-agnostic integration among all Integrated Air and Missile Defense (IAMD) platforms." The Army will use another two LTAMDS prototypes to support continued program development, he added.