The Army has awarded Oshkosh Defense [OSK] a $216.7 million order for Joint Light Tactical Vehicles (JLTV), with deliveries planned for each of the U.S. military branches as well as Montenegro, Brazil and Lithuania.
The latest deal, officially announced on Thursday, covers 513 JLTVs and 1,152 trailers, according to Oshkosh Defense.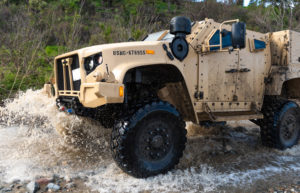 "Seven years ago, we assembled a world-class team of experts in engineering, manufacturing, supply chain management, and operations, and delivered a winning JLTV solution to the U.S. military," George Mansfield, the company's vice president and general manager of joint programs, said in a statement. "Today, we have an experienced workforce, a refined manufacturing process, and a mature, robust supply chain. No one else can say that. We are committed to delivering the best protected mobility vehicle for years to come."
Oshkosh Defense noted the latest order arrives about a month before proposals are due to the Army for the competitive JLTV follow-on production contract.
The potential 10-year contract is expected to be awarded in early 2023 and could cover more than 15,000 additional JLTVs, the company noted.
The Army has said the follow-on production deal may be worth over $7.3 billion, with an expectation to have the first vehicle delivery 18 months after contract award (Defense Daily, Feb. 9).
Mansfield previously told Defense Daily last October that Oshkosh Defense is "very confident" in its pursuit to secure the next production contract (Defense Daily, Nov. 1).
The JLTV re-compete effort has drawn at least one public competitor in AM General, with GM Defense [GM] also signaling potential interest, having previously detailed plans to line up partners and ensure it has the full supply chain of parts necessary to go after the production contract (Defense Daily, May 4).