General Dynamics [GD] Land Systems will hold a third demonstration of its Tracked Robot X-Ton, or TRX, robotic vehicle for the Army next February and March ahead of the platform's participation in the Army's major company-level Robotic Combat Vehicle (RCV) experiment in the summer of 2022.
The company showcased the latest version of TRX publicly for the first time at last week's Association of the United States Army (AUSA) conference, highlighting the platform outfitted with an indirect fire package that included AeroVironment's [AVAV] Switchblade loitering munitions solution.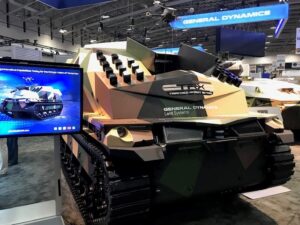 "We've learned quite a bit in the last year. We participated in a couple of different Army experiments with [TRX] Prototype 1. And what you're going to see [at AUSA] is Prototype 2 for the first time ever," Tim Reese, GDLS' director of U.S. business development, told Defense Daily.
TRX, which is being offered for the RCV-Medium program, was first demonstrated for the Army during February and March's Army Expeditionary Warrior Experiment at Fort Benning,Ga., where the company showcased the platform with a logistics payload that soldiers then used to perform tactical resupply exercises (Defense Daily, March 29).
A second demonstration concluded recently at Fort Leonard Wood in Missouri where TRX was outfitted with an engineering breach package to conduct a complex obstacle breach.
"Our platform had a blade on the front where we could push obstacles out of the way or mines off of the ground. We had a robotic arm that could reach out and move concertina wire or log obstacles," Reese said.
Don Kotchman, GDLS' vice president and general manager of U.S. operations, told Defense Daily both demonstrations highlighted TRX's modularity to handle a wide range of payloads and the ability to rapidly integrate new equipment packages.
"This is partly because of the deliberate design that we put together for the bed of the vehicle and partly because of the unique weight-to-payload distribution we have. It's a five-ton vehicle that can hold a five-ton payload, which is very uncommon in vehicle design," Kotchman said.
The third demonstration that will take place in February and March will also take place at Fort Benning and use TRX to operate a radio retransmission and drone capability.
TRX will then be part of next summer's Phase 2 RCV experiment, which will take place at Fort Hood from June to August, and be used to inform the Army's robotic vehicle requirements refining process ahead of moving into programs of record.
The Army previously tapped GDLS to submit a proposal for the RCV-M prototype effort, before ultimately selecting a Textron Systems [TXT] team to deliver its Ripsaw platform for the ongoing program to inform final requirements (Defense Daily, Jan. 9 2020).