A group of Democratic senators are urging that more than $6 billion in unspent funds for U.S. support to the Afghan security forces be reallocated for humanitarian purposes rather than back into the defense budget.
Sen. Ed Markey (D-Mass.) led a letter sent Tuesday to President Biden specifically requesting that nearly $3 billion in unspent FY '20 and '21 funds and another $3.3 billion included in the administration's FY '22 budget request be rededicated "to meet the vast humanitarian and relocation needs related to the United States' withdrawal from [Afghanistan]."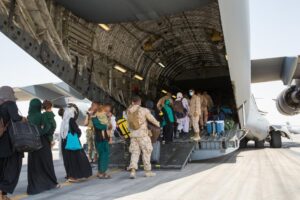 "We urge you to resist calls to reallocate this balance to the already bloated Department of Defense budget. Instead, we call upon you to work with Congress to direct those and other available military funds instead to support the humanitarian and relocation needs of the Afghan people," the lawmakers wrote in their letter.
In the wake of the withdrawal from Afghanistan and the Taliban's takeover of the country, Congress is set to assess how to move those funds in its upcoming defense authorization and appropriations bills now that the Afghan security forces are no longer operational. 
The House Armed Services Committee's version of the FY '22 NDAA, which the panel passed on Sept. 2 after the withdrawal from Kabul had concluded, included keeping just $350 million for Afghan forces account as a means of closing out current contracts (Defense Daily, Sept. 2). 
Republican lawmakers have suggested that the newly freed funds could be put back into the defense budget as a means of reaching calls for boosting the Pentagon's topline.
"As we close the chapter on the wars started following September 11, 2001, so, too, should we end the bloated military budgets that accompanied them. It would be an abdication of our duty to American taxpayers and to the Afghans who have supported our efforts for two decades if we continue to pour money into the Department of Defense, rather than meet the humanitarian needs of our Afghan friends and partners," Markey and the Democratic lawmakers wrote in their letter.
Sens. Elizabeth Warren (D-Mass.), Chris Van Hollen (D-Md.), Jeff Merkley (D-Ore.) and Ron Wyden (D-Ore.) joined Markey in signing the letter.