Progressive lawmakers Sen. Ed Markey (D-Mass.) and Rep. Ro Khanna (D-Calif.) introduced a bill Friday to stop development of the Ground Based Strategic Deterrent (GBSD) program and redirect the funds toward developing a universal coronavirus vaccine and other disease research.
The Investing in Cures Before Missiles (ICBM) Act would specifically block the appropriation of fiscal year 2022 funds for both GBSD and the W87-1 nuclear warhead modification program, while also commissioning a study on extending the life of the Minuteman III intercontinental ballistic missiles (ICBM) to 2050.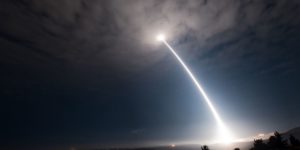 "The United States should invest in a vaccine of mass prevention before another new land-based weapon of mass destruction," Markey said in a statement. "The ICBM Act makes clear that we can begin to phase out the Cold War nuclear posture that risks accidental nuclear war while still deterring adversaries and assuring allies, and redirect those savings to the clear and present dangers posed by coronaviruses and other emerging and infectious diseases."
The new bill arrives a few weeks after Markey and Khanna sent a letter to President Biden to scale back nuclear modernization efforts, including GBSD development, citing concerns on the "unsustainable rate of spending" (Defense Daily, March 3).
"With all of the global challenges we face, the last thing we should be doing is giving billions to defense contractors to build missiles we don't need to keep as a strong nuclear deterrence," Khanna said in a statement Friday. "The GBSD program is unneeded and projected to cost $100 billion, there is simply no logical reason to allow the program to move forward. For much cheaper, we can extend the lifespan of the Minuteman III missiles we already have and instead focus on investing in the urgent national security threat in front of us: the COVID-19 pandemic."
GBSD, which is intended to replace the current Minuteman III ICBMs, is set to be built by Northrop Grumman [NOC] with flight tests scheduled to begin in FY '24.
The GBSD program is expected to total $93-$96 billion in acquisition costs and an estimated $260 billion in life-cycle costs.
The bill calls for redirecting $1 billion in unobligated funds for GBSD to the National Institute of Allergy and Infectious Diseases for universal coronavirus vaccine development and unobligated funds for the W-871 warhead to the Centers for Disease Control and Prevention for research on combating emerging and zoonotic infectious diseases.
Rep. Mike Rogers (R-Ala.), the House Armed Services Committee ranking member, told reporters he believes the panel will have the bipartisan support to block any proposed cuts to the GBSD program (Defense Daily, March 22).
The ICBM Act's co-sponsor includes three additional senators and 13 members of the House, including Sen. Chris Van Hollen (D-Md.) who also recently introduced a bill to cancel development of a new sea-launched cruise missile (N-SLCM) and its low-yield nuclear warhead (Defense Daily, March 4).