Lockheed Martin [LMT] has received a $75 million deal from the Army to move from prototyping into building an operational electronic warfare pod to provide jamming capabilities on unmanned aerial systems.
John Wojnar, Lockheed Martin's director of cyber/EW strategy, told Defense Daily the contract to continue work on the Multi-Function Electronic Warfare-Air Large (MFEW-AL) follows a successful flight test of a prototype EW pod during the first phase of the program.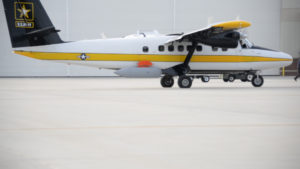 "In Phase 2 we will continue to advance the state of technology, build operational pods, and flight test to verify required performance provided by the U.S. Army customer," Wojnar said.
Lockheed Martin announced in January 2019 it had received an $18 million deal from the Army to build and test a new EW pod for the MQ-1C Gray Eagle UAS that was based on its Silent CROW open architecture EW system (Defense Daily, Jan. 29 2019). 
"Silent CROW would enable U.S. soldiers to disrupt, deny, degrade, deceive and destroy adversaries' electronic systems through electronic support, electronic attack and cyber techniques," Lockheed Martin officials said in a statement last year.
The company said the EW capability is designed to be configured for a range of air and ground platforms, including as a pod on Group 4 UAS platforms.
"Our internal research & development programs have resulted in first-of-its-kind converged technologies that are at the forefront of realizing our customers' urgent need and vision for combined cyber and electronic warfare capability and dominance," Deon Viergutz, vice president of Lockheed Martin's spectrum convergence division, said in a statement.