BAE Systems is eyeing the Marine Corps' Advanced Reconnaissance Vehicle (ARV) effort as an opportunity to build out additional variants of its own Amphibious Combat Vehicle (ACV), with a company official telling Defense Daily
that offering a common chassis may provide 'significant cost savings' for the ARV program.
The company is showcasing a Command, Control, Communications and Computers/Unmanned Aerial Systems, or C4/UAS, version of the ACV and a new Organic Precision Fires concept vehicle at this week's Modern Day Marine conference in Washington, D.C., which aligns with the first two mission role variants the Marine Corps has said it would pursue for the potential ARV program of record.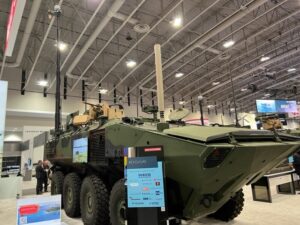 Mark Brinkman, BAE Systems' program manager of ACV family of vehicles design and development, noted the Marine Corps in December 2020 designated C4/UAS as the lead variant for the ARV program and stated it wants to keep the option to look at a government off-the-shelf solution as a potential candidate to provide that platform.
"What they were implying with that statement is they wanted to look and see could the ACV be the base chassis to deliver these additional capabilities to the Marine Corps. And what it would mean would be more mission role variants of the ACV. The first of those would be the C4/UAS, just like they're doing in the competitive prototype," Brinkman said.
The Marine Corps in July 2021 selected General Dynamics [GD] and Textron Systems [TXT] for the 22-month ARV prototyping effort, with each company set to deliver a test vehicle in early FY '23 for a six-month evaluation to help inform whether to take the program into production (Defense Daily, July 16 2021).
Meanwhile, the Marine Corps has tasked BAE Systems with integrating a suite of C4/UAS capabilities onto an ACV to study if such a platform could meet the ARV mission requirements.
Birkman said BAE Systems will start contractor testing for the ACV C4/UAS this summer, then move into government testing this fall, before the company delivers a final report with the data collected to the Marine Corps next April.
"That information, along with all the testing data that is being done through competitive prototype, will all get compiled and feed a decision in August 2023 where the Marine Corps is going to make that final decision whether they start a new acquisition program with a new hull form to meet this requirement or let's just make more mission role variants of the ACV because it meets the needs," Birkman said.
A sources sought notice released last December detailed plans for the C4/UAS and precision fires as the first two ARV variants, to be followed by a 30mm cannon version, a recovery variant, a logistics variant and a counter-UAS variant in follow-on phases.
Birkman noted BAE Systems is set to have the critical design review next week for the turreted version of the ACV, which uses Kongsberg's Medium Caliber Turret-30mm.
Both the base personnel variant of the ACV and the command and control version of the vehicle are now in full-rate production (ACV-C), with the Marine Corps having awarded BAE Systems an $89.5 million deal for delivery of 14 ACV-Cs on Monday.
On March 18, the Marine Corps also awarded BAE Systems a $34.9 million deal for design and development of the ACV's recovery variant (ACV-R) (Defense Daily, March 30).
Birkman said the benefit to pursuing an expanded ACV family of vehicles to meet specific ARV mission requirements is BAE Systems' ability to deliver a common chassis to the Marine Corps, rather than having two unique chassis requiring new parts, training and separate production line, adding the company is assessing the potential to offer the Marine Corps' "significant cost savings."
"We're not ready to release that information yet but we believe there is significant cost savings," Birkman told Defense Daily. "The coin of the realm is money. How do you articulate the value in commonality? You have to convert it to money. It all comes down to money and what's the cost difference in having a common chassis versus a unique chassis."
Birkman said the Marine Corps tasked BAE Systems with building a "mobile systems integration lab" for the ACV C4/UAS effort, with the company bringing in "best of breed solutions" or systems already common to the Marine Corps as it constructed the suite of technologies.
The ACV C4/UAS on display for the first time at Modern Day Marine specifically includes a Teledyne FLIR 280-HD long-range camera mounted on the vehicle's mast, components from the Marine Corps' MADIS air defense system, a RADA radar, Kongsberg's Common Remotely Operated Weapon Station-Javelin, a jamming capability, a Kymeta antenna for "network-on-the-move," a tethered UAV for extended line-of-sight communications and the ability to deploy a Lockheed Martin [LMT] Stalker drone.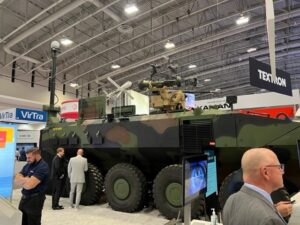 "We have a very robust comms suite integrated on this platform, with lots of paths to talk across huge frequency spectrums," Birkman said.
The Organic Precision Fires concept vehicle at the show, which is on a Marine Personnel Carrier hull, brings together sensors, loitering munition capabilities and weapons launchers connected through a common battle management system.
"These vehicles have the same local battle management systems. So, if I'm flying the Stalker [drone] 30 kilometers away and it acquires a target, I can identify that target with the [C4/UAS] vehicle. I can pass it to the [Organic Precision Fires] vehicle and launch a munition. These two vehicles could be sitting on different islands and they can still communicate to launch that loitering munition to engage that target. These two platforms would work very well in tandem," Birkman said.