HUNTSVILLE, Ala. – An Army official this week asked industry to work with the government to help mitigate inflation and supply chain issues impacting military procurement.
"We are in probably the worst headwinds we've seen for a while and the headwinds fighting against us, we're gonna need some help from our industry partners. Inflation is here, you know, it's here. It's high. In some areas, it's probably not as high in other areas. We need better communication with industry," Maj. Gen. Robert Rasch, program executive officer for Army Missiles and Space (PEO M&S), said here during the annual Space and Missile Defense Symposium on Aug. 9.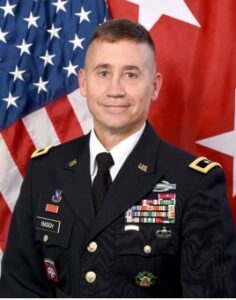 Rasch said inflation is not across the entire system, but it inevitably impacts his office since there are thousands of parts that make up missiles and radars and now some industry proposals are coming in much more expensive than in the past for the same kind of work.
"Proposals are coming in almost unaffordable, which is bad when we look at …the money we have, but the reasonableness and affordability is coming into play. And it's not just inflation. It's supply chain, it's labor shortages, it's the economic uncertainty of being able to get a [subcontractor] to agree to a price option three years from now, given all the other things that are occurring right now in the economy," he continued.
Rasch used his speech to ask industry to work with the government to figure out how to share and mitigate these risks over time.
"You know, I'm a big fan of firm-fixed price contracting, we've been doing it for a while, there are things that we build a lot of and understand the cost. And it's great when the risk is manageable and known. And I would argue that right now, we have a lot of risk that is not known. And we're certainly trying to manage it but we're not quite there yet. So we got to think differently. And think differently on how we as a government contract to you."
Rasch argued they need to change contracts so industry understands the escalation price aspects of what they do in a contract, "but as importantly, we need you to flow that down to your subs."
He noted that just like the government has often defaulted to a fixed-price contract mode he knows prime contractors have maintained the same kind of fixed contracting structure below them.
"That needs to go all the way down that supply chain, because as it all builds up into a proposal that comes back across to the government, and again, we have unaffordable programs. So that's the piece, quite frankly, that worries me now. Given everything, all the goodness for the industry and for the material development, capability development side of the house, the risk of not being able to execute, given all of these things. And this is, quite frankly, where I think I need your help."
Rasch said he thinks many other Army PEOs are having the same kind of conversations.
"We have got to think differently. And we got to do it quickly."