The Navy has completed nine of the total 11 planned weapons elevators on the USS Gerald R. Ford (CVN-78) aircraft carrier, Adm. John Aquilino told a congressional panel on Tuesday.
CVN-78 is late and overbudget thanks to various technical issues in this new first of its class aircraft carrier, with one notably being the planned 11 total Advanced Weapons Elevators (AWEs).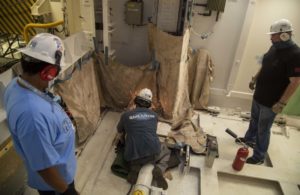 "All but two of the weapons elevators are repaired as I understand it, and we are certainly through all those technological challenges. The next thing you should see will be Ford deployed," Aquilino said in response to questioning from Sen. Roger Wicker (R-Miss.) about technological issues with the new carrier.
Aquilino was speaking during his confirmation hearing to move from commander of U.S. Pacific Fleet to Indo-Pacific Command.
Aquilino acknowledged the various delays tied to the carrier, but said as a first of its class ship these challenges can arise and he was sure the Navy would finish overcoming them.
"I'm supportive of the Ford. We took a lot of great new technologies. We've put them into that carrier. It is the first of the class and if you go back through history you will find we have challenges when we go first of a class. I am confident that the Navy will overcome all of those challenges and I know my counterpart on the East Coast is working to get Ford deployed as soon as possible," he said.
The ship is currently in an 18-month Post-Delivery Test and Trial (PDT&T) period that includes 11 at-sea underway periods, with work to finish the elevators continuing while the ship is both at port and at sea.
Last September, Rear Adm. John Meier, head of Naval Air Forces Atlantic, said he expected the Ford to be ready for its first deployment in 2022 and he was working with the 2nd Fleet and program Executive Office Carriers stakeholders to make sure the ship will be materially ready.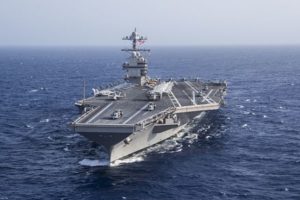 Last July, the Navy certified the second lower stage AWE, the sixth overall. The Lower Stage Weapons Elevators are designed to move ordnance from the ships magazines to the flight deck (Defense Daily, July 23, 2020).
The Navy previously certified the first lower stage AWE and fifth overall elevator nearly a year ago (Defense Daily, April 23, 2020).
The AWEs are a new technology designed to move ordnance throughout the ship more quickly, enhance carrying capacity and reduce manning, maintenance and total ownership costs.
Last year, former Assistant Secretary for Research, Development and Acquisition James Geurts said the Navy expected all 11 elevators to be ready and certified by the time CVN-78 undergoes shock trials (Defense Daily, April 17).
The Ford-class carriers and the new Advanced Weapons Elevators are built by shipbuilder Huntington Ingalls Industries [HII].