Amazon Web Services [AMZN] is opposing the Pentagon's push to remand the company's legal challenge of the potential $10 billion Joint Enterprise Defense Infrastructure (JEDI) cloud program so the department can re-evalute bids on its own, calling the proposal an attempt to "gerrymander" the corrective action process.
The company is calling on a federal judge to reject the Pentagon's proposal, alleging it would not address errors in the competition and unreasonably favor current awardee Microsoft [MSFT] in the re-solicitation effort.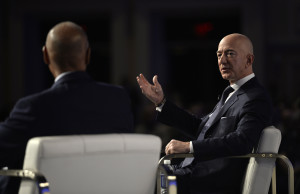 "We're pleased to see the DoD recognize the need to take corrective action, but we're concerned that the proposed approach is not designed to provide a complete, fair, and effective re-evaluation," an AWS spokesperson said in a statement to Defense Daily.
The Pentagon filed a motion with the federal claims court earlier this month which, if approved, would give the department 120 days to review AWS' challenge of political interference and technical errors in the procurement process, while potentially reconsidering its decision to award the contract to Microsoft (Defense Daily, March 13).
Microsoft beat out AWS for the JEDI cloud contract in October, following two years of program delays, allegations of conflict of interest, pre-award protests and congressional and industry pushback over the Pentagon's decision to go with a single-award approach.
"Both earlier in the adjudication process when we submitted 265 questions to the DoD that they refused to answer and in our protest where we outlined numerous significant flaws in the evaluation, it's been clear that there were many problems with the DoD's initial decision," an AWS spokesperson said. "Instead of addressing the breadth of problems in its proposed corrective action, the DoD's proposal focuses only on providing Microsoft a "do-over" on its fatally flawed bid while preventing AWS from adjusting its own pricing in response to the DoD's new storage criteria. This attempt to gerrymander the corrective action without fixing all of the serious flaws pointed out in our complaint raises significant questions."