The outgoing leader of U.S. Africa Command (AFRICOM) said last week he sees a need for new counter-drone and long-endurance surveillance systems to bolster capabilities for U.S. forces and partner nations in the region.
Army Gen. Stephen Townsend, commander of AFRICOM, told reporters he specifically sees the threat of armed drones becoming an increasing challenge similar to the threat posed by adversaries in the Middle East in recent years.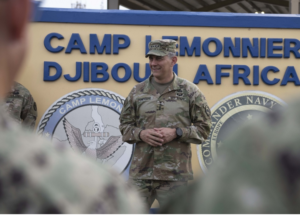 "For the last six years, American soldiers [in the Middle East] have had to look up at the sky for threats. Maybe not from nation state fighters and bombers, but certainly from drones. They're proliferating everywhere rapidly. They're low cost. And they can be quite effective and challenging to defend against," Townsend said during a Defense Writers Group discussion on July 28. "In our theater we haven't seen that yet. What we do see is we see them using drones for reconnaissance. We believe they've used drones for fire direction. The reason we believe that is we've had instances where a drone immediately preceded mortar or rocket attacks or it was there during the mortar or rocket attacks. And why else would you be doing that unless you were trying to direct fire."
Townsend said partner nations in Africa have asked for help from the U.S. with counter-drone capabilities in the face of growing threats from violent extremist organizations.
"We are working on ways to help those partners that have that problem. For the most part, where the terrorists are sophisticated enough to have that capability it's where our troops already are. So that makes it a little easier. But that's not true in all cases, so we're going to have to look at how we help those partners. I think this is going to be a big problem for all of the Western partners to help with," Townsend said.
Townsend noted the Pentagon has prioritized developing new capabilities for taking out drones, which includes the department standing up the Army-led Joint Counter-Small Unmanned Aircraft System Office to help coordinate modernization efforts.
"These counter-UAS capabilities, we have a potpourri of these things. Some work better than others. This is not an easy thing to do, to counter these [drones], because they change and evolve so rapidly. So if we had some kind of magic drone jammer that we could park on our [forward operating base] or put it in our vehicle that, when a drone shows up, we press a button and all the drones go away, that would be awesome," Townsend said.
Along with counter-drone capabilities, Townsend added he's particularly interested in seeing more "long-dwell, long-duration ISR capabilities" utilized in AFRICOM.
"I would be happy to volunteer for any pilot programs that folks want to propose out there in Africa," Townsend said.
Townsend specifically cited the Army's experimentation with Airbus' Zephyr ultra-long endurance stratospheric unmanned aerial system, which included breaking its own record and flying for 36 days straight (Defense Daily, July 22).
"It's a high-altitude, solar-powered glider. I can just imagine having that capability on the African continent. It would be fantastic," Townsend said.
The Senate on Tuesday confirmed Marine Lt. Gen Michael Langley as the next leader of U.S. AFRICOM where he will succeed the retiring Townsend.