The U.S. Navy is planning to spend $21 billion over 20 years to modernize and optimize the four public shipyards to help sustain a larger Navy, top Navy officials told a Senate panel yesterday.
James Geurts, assistant secretary of the Navy for research, development, and acquisition (ASN RDA), and Vice Adm. William Merz, Deputy Chief Of Naval Operations for Warfare Systems (OPNAV N9), confirmed to the Senate Armed Services subcommittee on Seapower that the service is planning to recover maintenance in the public shipyards including work on dry docks, recapitalization, and re-facilitating the yards.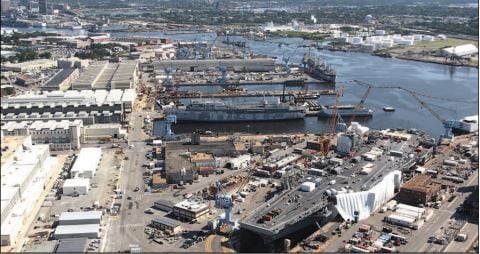 Geurts explained the modernization effort is "a collection of a multitude of small things but if we can enable that workforce with modern tools, put the development programs in there to have a sustainable workforce, then I think we can see great improvement."
He added that improvement is needed "if we're going to sustain this 355-ship Navy."
Guerts said the public yards have additional capacity have "aged infrastructure" and lack "most modern tools." The service needs to make sure it has the proper training pipelines to grow the workforce. He noted boom and bust budget cycles with annual continuing resolutions and late budgets make that difficult.
Sen. Tim Kaine (D-Va.) noted all four yards were judged as in poor or failing conditions in a Government Accountability Office (GAO) report from last September (Defense Daily, Sept. 13, 2017).
Geurts said the Navy is in good shape on completing existing maintenance backlog at the public shipyards, but it has to be ready for the growing fleet.
He explained the shipyard optimization plan, delivered to Congress in February, lays out the overall strategy but the Navy is continuing to refine it "and now we've got to get to year by year, facility by facility planning. Because the challenge will be we can't stop doing all the work we're doing now, so we'll have to get very detailed planning – how do we build the new facility as we're executing the existing work. You'll see that continue to get refined over the coming year."
Under questioning from ranking member Sen. Mazie Hirono (D-Hawaii), whose state includes one of the four public yards, Geurts said the plan is looking at all of the yards in concert.
"So it's not just a year by year plan, but how do we optimize the flow, how do we look at what equipment do we need, are there new machines, how's the status of the machines, and then how do we leverage the digital age to really allow us to not only give them modern equipment, give them modern tools to, I think, allow them to do more and more."
Geurts highlighted the plan balances each yard and then works on priorities. "So it's not going to be one yard then another yard – it's going to be all four kind of in parallel."
Following the hearing, Geurts told reporters that the Navy would likely take up the drydocks as one of the initial priorities.
However, "the real key is we've got to continue to execute work while we upgrade. So you can't just shut down a whole yard for a couple of years. So it'll be a combination of aging equipment like drydocks, optimizing flow in the yards, and trying to reduce wasted effort there. And then a lot of outdated infrastructure."
The four public shipyards that support nuclear-powered aircraft carrier and submarines are the Norfolk Naval Shipyard in Virginia, Portsmouth Naval Shipyard in Maine, Puget Sound Naval Shipyard and Intermediate Maintenance Facility in Washington, and Pearl Harbor Naval Shipyard and Intermediate Maintenance Facility in Hawaii.
Separately, Merz told Sen. Tom Cotton (R-Ark.) that the Navy is not concerned that no Littoral Combat Ships (LCSs) will be deployed in 2018 and it "absolutely" anticipated this.
The Navy currently has about one third of the total 32 planned LCSs delivered and the "typical deployment model is three to five ships to one to keep one deployed so this is really just math and there's going to be gaps that'll fill in over time."
He said the service is "learning a lot about the maintenance of this ship. We're going to a dual crew model over the next several years. So we feel like it's on track" and deployed ships are "going to catch up over time as we fill in the rest of the class."
Geurts also told reporters the Navy has not yet determined which of the two builders will get the one LCS budgeted for FY '19.
"We haven't determined the acquisition strategy yet for the '19 ship" and "it kind of depends where we end up at the end of '19.
Fincantieri Marinette Marine in Marinette, Wisc. builds the Freedom-variant LCS while Austal USA in Mobile, Ala. builds the Independence-variant.