The Navy is trying to shift Aegis Ashore missile defense missions from the Navy to the Army, but the latter has not agreed to take the mission yet.
Speaking at the virtual Surface Navy Association symposium on Monday, Chief of Naval Operations Adm. Mike Gilday argued to get the Navy to focus on core missions like sea control and power projection it had to divest less useful capabilities.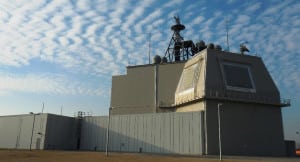 "Divestments will also be necessary to build back the naval power America needs. That includes… transferring non-core Navy missions like Aegis Ashore to our ground forces. Our sailors have put years of exceptional service in these platforms, but pivoting to the future requires tough choices," (Defense Daily, Jan. 12).
Similarly, Gilday's Navigation Plan, released on Jan. 11, argued that "to remain ahead of our competitors, we will divest ourselves of legacy capabilities that no longer bring sufficient lethality to the fight."
It cited ships like the initial experimental Littoral Combat Ships, legacy cruisers, and older Dock Landing Ships and also Aegis Ashore as "non-core navy missions."
"Transferring shore-based Ballistic Missile Defense sites to ground forces enables sailors to focus on their core missions at sea and frees up resources to increase our lethality," the plan said.
Speaking at the symposium on Tuesday, Rear Adm. Paul Schlise, Director, Surface Warfare Division (OPNAV N96), said the Aegis Ashore issue is an "ongoing discussion" but the Navy would prefer to move the sailors back on to ships.
Schlise agreed Aegis Ashore is not a core Navy mission and the discussion is "its sailors really belong at sea serving in ships and we've got a good number of highly qualified folks serving in those sites."
He said he knows type commanders like Vice And. Roy Kitchener, commander of Naval Surface Force at Pacific Fleet, and Rear Adm. Charles Cooper II, commander of Naval Surface Force Atlantic, "would love to have all those sailors we have tied up in those facilities back at sea manning our ships, doing those jobs that sailors do at sea."
Schlise noted the Navy has talked about moving the mission over to the Army, which "has some missile defense capability…but they don't have any experience with those systems."
Schlise underscored while there was some interest in the Office of the Secretary of Defense in moving Aegis Ashore, given the importance of funding decisions it was tabled for the purposes of the last budget cycle.
"As always, here in the building, it's about money, so if that transition were to be considered and approved for moving forward to transition it to another service – who's going to pay will of course be part of the discussion," he added.
The Navy commissioned Naval Support Facility (NSF) Redzikowo in Poland, the site of the second Aegis Ashore system, in September. The Polish site is now estimated to be operational no earlier than FY '22 due to construction delays (Defense Daily, Sept. 4, 2020).
The fully operational Aegis Ashore site is at Deveselu Air Base, Romania. It was the final component of Phase II of the European Phased Adaptive Approach (EPAA) missile defense program.