The Naval Information Warfare Center (NIWC) Atlantic concluded a joint civilian-military Naval Integration in Contested Environments (NICE) Advanced Naval Technology Exercise (ANTX), on April 14.
The 10-day NICE ANTX, located at Camp Lejeune, N.C.,  had over 60 emerging technologies evaluated by the Navy and Marine Corps for future applications. It had some of the most participation in an ANTX event thus far, the Navy said.
The ANTX exercises generally aim to demonstrate new technologies in operationally relevant settings.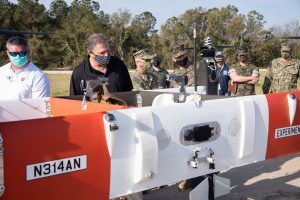 The planning and execution of the exercise included NIWC Atlantic partnering with Naval Surface Warfare Center Crane Division, Navy Warfare Development Command (NWDC) and Marine Corps Warfighting Laboratory (MCWL).
"It was awesome to see the great collaboration occurring between our Marines and Sailors, large and small businesses, and our government warfare centers as they experimented together with new technologies and operating concepts to serve the warfighter in contested environments," James Geurts, acting Under Secretary of the Navy, said in a statement.
"Enabling our operators to provide candid and immediate feedback on these technologies ensures we leverage their valuable perspective and experiences as we together shape the equipment needed to compete and win in future contested environments," he continued.
The NICE ANTX focused on naval integration, so technology providers were judged through naval warfare concepts like utility in expeditionary advanced base operations (EABO) and distributed maritime operations (DMO).
Prototype technologies were grouped into capability areas: command and control, communications, domain maneuver, fires and effects, fleet support, and operations in an information environment.
Navy leaders chose about 65 technologies, largely from private industry, focused on radio frequency waveforms, autonomous air and sea vehicles, advanced sensors, optical communications, cybersecurity applications, and various software capabilities.
In the latest ANTX, assessors gauged capability while observers "envisioned relevant EABO/DMO scenarios in which each product could be used," the Navy said.
"The assessments helped us understand exactly how those technologies could work in an operational environment. That information is also extremely useful to the technology owners, since some products can be improved upon to help us with capability gaps we are looking to fill," Matt Largent, a NIWC Atlantic engineer and NICE ANTX assessment lead, said in a statement.
NIWC Atlantic brought eight technologies of its own to demonstrate, including an airborne surrogate satellite capability designed to give warfighters backup communications.
"Integrating new technologies into the fleet faster than our adversaries will be a key to achieving tech overmatch and winning the information war. We get there by offering these very low-barrier-of-entry opportunities that come with accelerated contractual options, including the Commercial Solutions Opening,"Greg Hays, NIWC Atlantic's senior scientific technology manager for Rapid Prototyping and Fleet Exercises and a participant, said.
Members of the 2nd Marine Expeditionary Force (II MEF) based at Camp Lejeune  hosted the ANTX site and supported logistics. The 160 technology assessors consisted of Marines from II MEF, MCWL, two dozen sailors, and about 60 DoD civilians.
"It will take the entire team working together to maintain our competitive edge," Geurts added.