The White House has named Chirag Parikh as executive secretary of the National Space Council. Parikh is the senior director of Azure Space at Microsoft
[MSFT], and was previously the director of space policy for the National Security Council from 2010-2016 during the Obama administration.
The National Space Council is under the White House, and it is the principal unit for space commerce policy activities. President Biden decided to keep the council in place after President Trump re-established the council after it had been inactive. Vice President Kamala Harris will chair the National Space Council, following former Vice President Mike Pence as chair.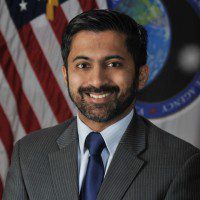 The announcement was made in a press email on Monday. Harris plans to host the first meeting of the National Space Council under the Biden administration in the fall. The council will maintain core objectives of national security, basic science, technological development, and contributions to U.S. economic growth. The Biden administration will also add a focus on supporting sustainable development of commercial space activity; advancing peaceful norms and responsible behaviors in space; achieving peaceful exploration objectives with allies and partners; addressing climate change; advancing STEM education; promoting diversity in the workforce and regional economic development; and enhancing cybersecurity in space systems.
Parikh was introduced as part of Microsoft's space leadership team in October 2020, when Microsoft unveiled cloud platform Azure Space. Parikh is also the former office director of the National Geospatial-Intelligence Agency.
The Satellite Industry Association (SIA) applauded the nomination and SIA President Tom Stroup said the association looks forward to working together on "maintaining a sustainable and safe space environment while promoting cybersecurity, climate change, STEM and other initiatives that are vital for the commercial satellite industry."
"His previous service as director of space policy in the National Security Council combined with his executive experience at the National Geospatial-Intelligence Agency make him an ideal choice to assist Vice President Harris to oversee the day to day operations of the Council. Thanks to innovation and decreased costs, the commercial satellite industry is growing at a tremendous pace and we applaud the administration's appointment of Mr. Parikh," Stroup said.
NASA Administrator Bill Nelson also congratulated Parikh in a tweet. "Congratulations to Chirag Parikh, who was appointed today as Executive Secretary of the National Space Council by [Vice President] Harris! I look forward to working with you to ensure American leadership and a safe, sustainable future in space," Nelson tweeted.
This article was originally published in our sister publication Via Satellite.