BAE Systems won a contract to produce and deliver its Bofors 40 Mk4 and Bofors 57 Mk3 naval guns for the United Kingdom's Babcock Type 31 general purpose frigate program, the company said Oct. 1.
Last year, the U.K.
selected Babcock as the preferred bidder for the new Type 31e frigates and committed to buying at least five vessels and expects to sell others internationally. The first Type 31 is expected to be delivered in 2023 (Defense Daily, Sept. 12, 2019).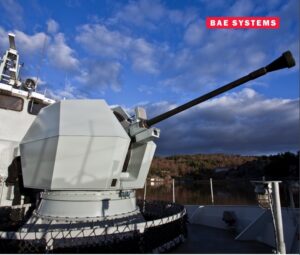 Babcock awarded BAE the contract for five Bofors 57 Mk3 57mm medium caliber guns and 10 Bofors 40 Mk4 40mm small caliber guns. These are both close-in weapon systems (CIWS), designed to protect ships against modern threats. The companies did not disclose the value of the contract.
BAE said these guns offer the U.K. Royal Navy "optimized ammunition types, including the cost-efficient programmable Bofors Pre-fragments, Programmable, Proximity-fused (3P) all-target munition. That munition can be programmed in six function modes to optimize it against aerial, surface, or shore targets.
BAE's work on the ship also includes services, tools, spares, documentation and support. Both gun systems will be built at the company's facility in Karlskoga, Sweden. Deliveries are expected to occur in 2023 and 2024.
"We will be providing the most cutting edge gun system technology available which can adapt to different levels of conflict, including peacekeeping missions, local coastguard operations, and military operations. This contract increases the number of European nations deploying our advanced, flexible weapon systems," Lena Gillström, managing director for BAE Systems Bofors, said in a statement.
BAE underscored the Bofors 57 Mk3 naval gun is installed on various ships, including with the navies and coast guards of Canada, Finland, Germany, Sweden, and the the United States, where it is known as the Mk110 naval gun. The company said it has delivered over 100 Bofors 57 Mk3 naval guns around the world.
In contrast, the Bofors 40 Mk4 naval gun is its latest in the company's 40mm family. The Royal Navy will become the fifth operator of the gun.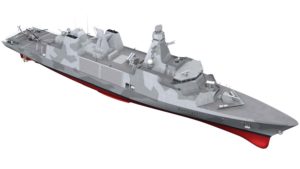 BAE and Atlas Elektronik U.K. were the other finals for the full Type 31 ship competition.
Babcock's Type 31 design is based on a modified version of the Danish Navy's Iver Huitfeldt-class frigate, called the Arrowhead 140. Babcock is working with Thales to design the Type 31.
When the U.K. selected the Type 31 it said the ship will first be laid down in 2021 and launched in 2023, with the whole class finished by 2027. The total program is expected to cost over $1.5 billion, costing over $308 million per ship.
In its statement about the new CIWS contract, BAE said the first ship is expected to go into service in 2027.
The Type 31 will replace five current Type 23 Duke-class frigates that are not fitted with towed arrays and the full set of submarine-hunting sensors.