BAE Systems said Wednesday it has partnered with Elbit Systems of America
to work on developing new combat vehicle technologies.
Collaborative work will focus on new capabilities for combat vehicles including "crew automation, vehicle protection systems, and other defensive and offensive systems for integration into turrets of various cannon calibers and supporting weapon systems," according to BAE Systems.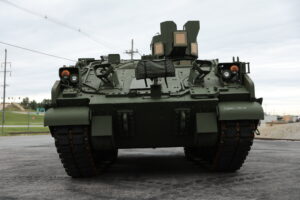 "BAE Systems and Elbit America are investing in transformational combat vehicle technologies and turret solutions that will greatly enhance the lethality and survivability of next-generation combat vehicles for the U.S. and international militaries," Jim Miller, BAE Systems' director of business development, said in a statement. "Our relationship demonstrates a commitment to provide our customers with solutions for future battlefields based on our collective combat vehicle expertise."
While the announcement does not name any specific platforms or programs, the partnership could potentially be a signal the companies are interested in the Army's Optionally Manned Fighting Vehicle (OMFV) competition.
Amanda Niswonger, a BAE Systems spokeswoman, told Defense Daily, the company is currently assessing the OMFV draft Request for Proposals and has not yet made a determination on whether it will compete for the program.
"BAE Systems customers, both domestic and international, are looking to modernize their vehicles and enhance their capabilities. Forming this partnership will provide more agility in developing solutions that will meet our customers' requirements and timelines. We are always looking to provide our customers with the most innovative solutions for ground vehicle platforms, whether it is for an upgrade to a current vehicle program, a competitive program, or future capabilities overall," Niswonger said.
OMFV is the Army's program to replace its Bradley fighting vehicles. The service canceled its original acquisition effort earlier this year, and then relaunched the competition with a focus on digital designs rather than physical prototype and plans to award up to five contracts in June 2021.
BAE Systems said in June 2019 it was going to sit out the Army's first attempt at OMFV after determining the program's requirements and acquisition schedule didn't align with the company's development priorities (Defense Daily, June 10 2019).
Germany's Rheinmetall said Tuesday it is teaming up with Textron Systems [TXT] to offer its Lynx infantry fighting vehicle for OMFV (Defense Daily, Oct. 20).