Amazon [AMZN] is "evaluating its options" after losing out on the Pentagon's potential $10 billion Joint Enterprise Defense Infrastructure program, a source familiar with the situation told Defense Daily, with analysts predicting an immediate protest will be filed.
The Pentagon said Friday evening Microsoft [MSFT] beat out Amazon Web Services for JEDI, following two years of program delays, allegations of conflict of interest, pre-award protests and congressional and industry pushback over the Pentagon's decision to go with a single-award approach.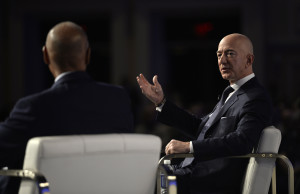 "We're surprised about this conclusion. AWS is the clear leader in cloud computing, and a detailed assessment purely on the comparative offerings clearly lead to a different conclusion. We remain deeply committed to continuing to innovate for the new digital battlefield where security, efficiency, resiliency, and scalability of resources can be the difference between success and failure," an AWS spokesperson said in a statement.
Microsoft and AWS were the two vendors to meet JEDI's gate requirement, which cut proposals from Oracle [ORCL] and IBM [IBM], with Amazon viewed as a heavy favorite to win the work.
David Berteau, president of the Professional Services Council, told reporters Monday he expected Amazon to file a protest almost immediately after receiving a debrief from the Pentagon, and he expects DoD to adhere with the Government Accountability Office's likely recommendation to suspend all action on JEDI until a decision is made.
Berteau predicted the dispute will become a high priority for GAO, believing they'll take all 100 days to reach a conclusion, and doesn't believe the president's previous comments disparaging Amazon CEO Jeff Bezos will have an effect on the protest result.
"I'm probably confident that they will not just assign the next random lawyer who's up for the next protest that comes in, but will carefully pick lawyers that bring a lot to bear because this is a protest that's going to set a very high bar of review," Berteau said. "I don't see that it plays a role at all. I think GAO, in everything I've seen, ignores that. They actually do a very good job of ignoring that. That won't mean there won't be stories about that. And it might be a different case in a lawsuit though, because it depends on the basis of the suit and what the allegations are and what the remedies are that are sought."
Analysts with the Cowen [COWN] Washington Research Group are also expecting a protest, specifically saying they would not "firmly count this in the Microsoft win column until the protest window has closed."
Friday's contract announcement to Microsoft was a surprise, according to Cowen, whose analysts note AWS leads the $60 billion infrastructure and platform "as a service" space with a greater than 50 percent share of the market. Microsoft's Azure hold around 10 percent of the market space, according to the analysts.
"Overall, Microsoft securing the contract will likely have significant implications in terms of the long-term trajectory of its Azure business, in our view, considering the potential of the JEDI contract relative to the size of MSFT's Azure business today," Cowen analysts wrote, estimating Azure revenue to grow by $7 billion from FY '19 to FY '20.
The Pentagon said Friday the base contract is a two-year deal with a $1 million guarantee, adding that initial adoption under the deal could result in $210 million in spending during the first two years.
"As was articulated throughout the JEDI procurement, the DoD has a singular objective – to deploy the most innovative and secure commercially available technology to satisfy the urgent and critical needs of today's warfighters. We look forward to expanding our longstanding partnership with DoD and support our men and women in uniform at home, abroad, and at the tactical edge with our latest unique and differentiated Azure cloud capabilities," Toni Townes-Whitley, Microsoft's president for U.S. regulated industries, said in a statement.