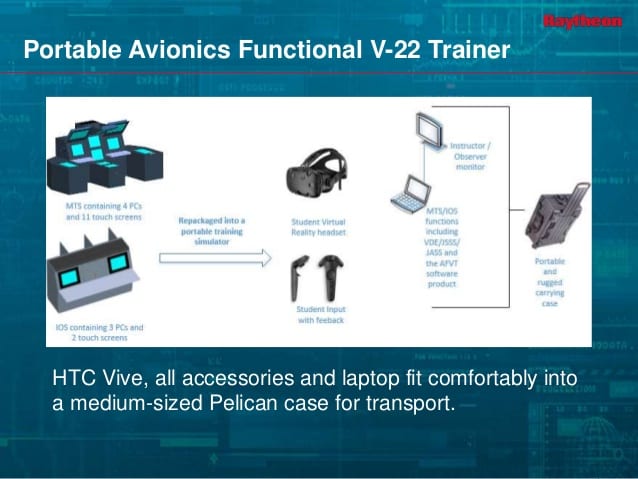 Raytheon [RTN] unveiled a virtual reality (VR) version of its portable V-22 trainer on Dec. 2 at the Interservice/Industry Training, Simulation and Education Conference (I/ITSEC) in Orlando, Fla.
The Aircraft Functional V-22 Trainer-Virtual Reality "is a fully immersive system that provides hyper-realistic training across all experience levels, including early-career aviation maintenance students and those engaged in continuing education," Raytheon said.
The company has said that such VR training can reduce workplace injuries by 25 percent or more.
Wendell Bradshaw, the director of Raytheon's Intelligence, Information and Services business, said in a statement that the Aircraft Functional V-22 Trainer-Virtual Reality system "is intuitive and realistic, making the training sessions more productive and meaningful."
"Adding the virtual reality element further increases the training's realism and the students' mission readiness," he said.
The system is to add training depth, as students are able to access integrated interactive electronics technical manuals and 41 different operational aircrew and maintainer checklists for navigating the fully interactive cockpit, cabin, and exterior, and instructors can insert up to 81 unique system failures, such as electrical power, navigation, blade-fold, and electronic warfare, into the training scenarios, according to Raytheon.
"The trainer also supports multiplayer collaboration with directional audio and two-way communications with instructors and other students," the company said.
I/ITSEC takes place this week at the Orange County Convention Center in Orlando.