The Navy awarded Raytheon Technologies' Pratt & Whitney [RTX] an undefinitized contract modification worth up to $4.385 billion on June 14 for almost 180 F-35 engines.
The award adds scope to a previously awarded contract to produce and deliver Lot 15 and 16 F-35 propulsion systems, specifically 152 F135-PW-100 propulsion systems divided into 108 for the Air Force, 29 for the Navy and 15 for the Marine Corps as well as 26 F135-PW-600 propulsion systems for the Marine Corps F-35B Short Take-Off and Vertical Landing (STOVL) variant.
The F135-PW-100 engine is used in the F-35A and C models used by the Air Force and Navy.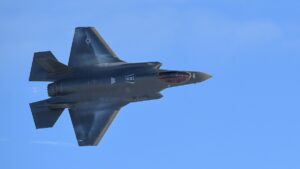 This modification has several other provisions and uses for the Defense Department, including to procure long lead-time components, parts and materials associated with both engine variants for non-Defense Department participants and Foreign Military Sales (FMS) customers.
It also provides global spares requirements including spare engines, power modules and other hardware as well as a Block 4 STOVL development test engine for flight test efforts.
The work is expected to be finished by September 2024.