The Missile Defense Agency is conducting market research to improve and modernize the Command and Control, Battle Management, and Communications (C2BMC) Planner, which allows users to use missile defense system (MDS) assets to counter various threat scenarios.
The Command and Control, Battle Management, and Communications (C2BMC) is the integrating element "at the core of the MDS," the notice said. It enables officials to plan operations, see the battle develop, and manage networked sensors and weapons.
In a Request For Information (RFI) issued by MDA on Oct. 21, the notice said the C2BMC Planner "provides the Combatant Commander with a MDS capability to collaboratively plan, coordinate, assess, optimize, and integrate High-Demand / Low-Density missile defense resources to defend the United States, our deployed forces, our allies and friends against all ranges of missiles in all phases of flight."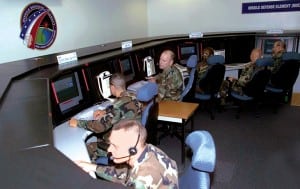 The Planner performs pre-mission analysis to determine the optimal assets pairings for effective Missile Defense and also "initializes Operational C2BMC Suites with validated Defense Design Data and supports Force Level planning processes."
MDA issued the RFI because it is looking to modernize how it designs, develops, delivers, operates and sustains agency systems. The notice said MDA is specifically looking for a modern software development environment, like a cloud-native environment, to accelerate and improve the movement of software development to operational fielding.
"The C2BMC Planner Program is interested in concepts and approaches to rapidly develop, test, integrate, and validate new capabilities into a modular, extensible system securely and reliably in a responsive manner. Additionally, there is a requirement to sustain and maintain capabilities while minimizing risk to cyber vulnerabilities and costs," the notice said.
MDA underscored the C2BMC Planner is dependent on reliable understanding of missile defense assets and resources, allied and adversary capabilities and possible future changes.
The agency said the future C2BMC Planner "must be postured for advanced and emerging threats, documented Application Programing Interface for extensibility to new weapons and sensors, left through right of launch integration, a multi-level security posture, dynamic near-real-time collaborative planning capability (both machine-to-machine and human to machine), acquisition & engagement statistics, and quick access to third party models & simulation capabilities."
The Planner provides the warfighter with the ability to quickly evaluate alternative defense laydowns and conducts Course of Action Analysis.
"C2BMC Planner collaborates Defense Design Data vertically down to tactical level planners and horizontally across Combatant Commands. The Planner performs rapid feasibility and integrated defense design assessments at a Strategic Level. These analyses provide the user with measures of effectiveness, which characterize system performance."
According to the notice, DoD will use the RFI to inform its determination as to whether sources capable of satisfying the requirement exist. It specifically cited the requirement to design, develop, test, and field new C2BMC Planner capabilities to support MDA commitments to warfighters as well as to maintain/sustain the current and future fielded capabilities.
"The MDA is interested in responses outlining new and creative ideas for the development and integration of state of the art technology to advance C2BMC Planner while maintaining the operational integrity of the deployed system with minimal risk at all times."
New technologies should include an assessment of the current Technology Readiness Level/Algorithm Readiness Level.
Responses are due by Nov. 22 and MDA anticipates all information submitted to be unclassified.