The director of the Missile Defense Agency (MDA) earlier this month explained why the Defense Department was planning to use mobile rather than fixed missile defenses in Guam.
"First, it was a pretty extensive department-wide study, we did look at a number of fixed site options. And then in the end, just given the kind of capability that we need on the island and the flexibility there, we did go with mobile across the board. So the sensors will be mobile, the command and control – there's an option to be mobile," Vice Adm. Jon Hill told the Senate Armed Services strategic forces subcommittee on May 18.
He noted the missile defense launching systems will also be mobile.
"So I think the goodness that comes out of that is the investments that we make there," he said.
Hill noted it is not a large leap in engineering to make the launchers mobile on land, given existing Army mobile missile launchers.
However, work will need to be done to make sure launchers that carry Standard Missile (SM)-3 and SM-6 interceptor missiles can move.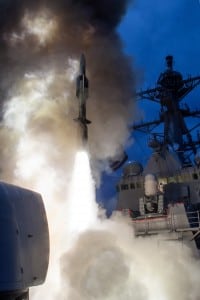 "We think we can accomplish that and it does give the combatant commander options on where he can move those downstream. So, we'll initially site them in an area and then if we need to move them, we'll move them," Hill continued.
In March, MDA revealed the architecture it chose to defend Guam against ballistic, cruise and hypersonic missiles will consist of the Lockheed Martin [LMT] Aegis combat system, Raytheon Technologies [RTX] Standard Missile (SM)-3 and SM-6 missiles, and the Northrop Grumman [NOC] Integrated Air and Missile Defense Battle Command System (IBCS) (Defense Daily, March 29).
The Defense Department will also keep the Terminal High Altitude Area Defense (THAAD) system already on Guam. The new systems aim to help relieve the need for Navy Aegis-capable destroyers to stay near Guam for defense.
During a Center for Strategic and International Studies event on May 23, Hill noted defense of Guam is difficult primarily because DoD has to balance the importance of adding defensive capability against "very limited areas" they can place the defenses, in competition with other things on the island.
He said this means they have to respect the beautification of Guam after experience working on potentially building a missile defense radar on Hawaii. In that earlier process, "we learned a lot about siting and what it means to local communities, so we are very sensitized to that."
Hill added that they do not want to "overmilitarize" a tourist area.
"There are things we can do to get the capability there without destroying the tourist industry," because that is such a large part of Guam's economy.