Leidos [LDOS] finished the delivery of the Seahawk autonomous medium displacement unmanned surface vehicle (MDUSV) to the Navy, the company announced April 7.
The company built the vessel via a $35.5 million 2017 contract from the Office of Naval Research. Work primarily occurred on the Mississippi Gulf Coast.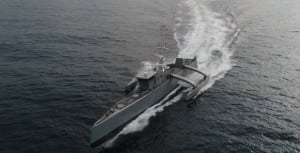 Seahawk is the designation of the second Sea Hunter MDUSV being operated by the Navy, also built by Leidos.
The company described the Seahawk as a long-range, high-availability autonomous surface vessels with a composite trimaran hull.
"Seahawk is designed to operate with little human involvement, thus providing a forward-deployed and rapid-response asset in the global maritime surveillance network," Leidos said in a statement.
"As technology continues to accelerate and adversaries become more sophisticated, our customers must constantly evolve. We are honored to provide this latest technological advancement to America's sailors who fight to keep the seas open and free," retired Rear Adm. Nevin Carr, Leidos vice president and Navy strategic account executive, said.
Leidos Vice President for Maritime Solutions Dan Brintzinghoffer underscored they did not merely put an autonomous navigation system on an existing ship.
"Every mechanical and electrical system on Seahawk has unique configurations designed to run for months at a time without maintenance or a crew," Brintzinghoffer said in a statement.
The Seahawk's fully loaded displacement is 145 long tons, including 14,000 gallons of fuel to power its twin diesel engines "for a substantial length of time."
Leidos said Seahawk includes upgrades based on an evaluation of over 300 lessons learned from its Sea Hunter predecessor. Upgrades were" based on joint evaluations by Leidos and the Navy" to include upgraded electrical systems, a payload mounting system and test operator control station.
The vessel is set to sail to join Sea Hunter at Surface Development Squadron One (SURFDEVRON) in San Diego, Calif., where the Navy is testing unmanned vessels with Zumwalt-class destroyers.
In January, Unmanned Maritime Systems Program Manager (PMS 406) Capt. Pete Small revealed the Sea Hunter has a pilot house for some manned procedures, but it contains no accommodations for people to stay onboard for the long term. For now, the vessel requires manning for getting it underway from the pier, bringing it back to the pier, refueling events and anchoring (Defense Daily, Jan. 19).
The Navy is using prototype unmanned vessels like the Sea Hunter and Seahawk to develop and integrate autonomy software and automation systems, demonstrate their ability to perform safe autonomous navigation in accordance with navigation rules, and in FY '21 plans to push transit durations towards 30-day.
Later this month the Navy plans for SURFDEVRON to undergo a fleet battle problem with the destroyer USS Michael Monsoor (DDG-1001) controlling manned and unmanned forces, including Sea Hunter and Seahawk. A Navy official said the two vessels will support manned units via integrating payloads to assist in anti-submarine warfare and building maritime domain awareness (Defense Daily, March 26).
The exercise will be the first where the Navy will use two MUSVs in a single event and integrate them with unmanned aircraft, all managed by the Monsoor.