General Atomics has received a $93 million deal to work on a program for DoD's Joint Artificial Intelligence Center (JAIC) developing an AI-enabled "Smart Sensor" for unmanned aircraft systems.
JAIC has partnered with the Air Force for the Smart Sensor program, which will look to support the service's Advanced Battle Management System effort.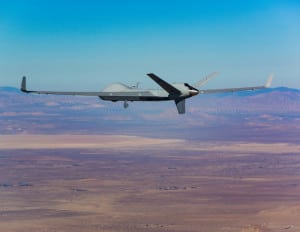 Lt. Cmdr. Arlo Abrahamson, a JAIC spokesman, told Defense Daily, Smart Sensor will add on-board processing to unmanned aircraft to "reduce sensor data transmission requirements by sending pre-processed data rather than raw data."
Abrahamson gave the example that Smart Sensor would have the ability to transmit video images only if something is in the frame, rather than sending video of an empty desert.
"This greatly reduces the communications bandwidth requirements for ISR aircraft, and acquiring sufficient bandwidth is often a major operational constraint," Abrahamson said.
Smart Sensor is also aimed at increasing the probability of successful data transmission in communications degraded environments, such as bad weather or in jamming situations, according to Abrahamson.
"Eventually the goal is to enable greater autonomy in unmanned ISR aircraft, with onboard AI controlling the aircraft's sensors and directing some phases of flight. This enables ISR aircraft to continue reconnaissance activity even if a link with the remote human pilot is unreliable," Abrahamson said.