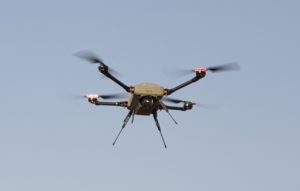 Elbit Systems plans to showcase its new MAGNI intelligence drone at this week's Milipol Paris 2019 safety and homeland security conference, which hosts some 30,000 visitors biennially.
The drone is a five-pound, autonomous multi-rotor vertical take-off and landing unmanned aerial system (UAS) "designed to significantly enhance the situational awareness capabilities of mobile forces" and to enable "rapid deployment and launch (in less than 1 minute) from any combat vehicle transforming it to an effective intelligence gathering platform," according to Elbit.
In addition to MAGNI, Elbit builds two other multi-rotor drones, the 20-pound THOR mini-UAS and the 10-pound NOX micro-UAS.
Military forces and governments have been pressing for high-resolution surveillance capabilities in miniature drones–a trade space that MAGNI appears to fit well.
MAGNI "includes a thermal payload, a communications suite (dual S-Band or LTE), an automatic coordinate tracking capability as well as a built-in interface with Battle Management Systems (BMS)," Elbit said. "Carrying up to 350 grams of payloads, it offers a range of up to 3 kilometers, a maximum operational altitude of 4,000 ft and 30 minutes of endurance. Operated by a single user, MAGNI enables vehicle mounted forces to generate beyond-the-hill visual intelligence during day and night, and seamlessly feed target information to command and control systems."
Elbit is also a player in the field of counter drone technologies. The company recently introduced a vehicle-based anti-drone system based on its ReDrone system. The ReDrone Vehicular Tactical System is to meet the increasing demand for protection of vehicles and convoys against hostile drones, Elbit said.
The system detects, identifies and neutralizes all types of drones at any radio frequency within a radius of several kilometers, providing a vehicle with 360-degree protection, according to Elbit, and can be used day or night in stationary or on-the-move scenarios in all weather conditions. The system can also operate in manual and automated modes and can track a drone and an operator's remote control signals, Elbit said.