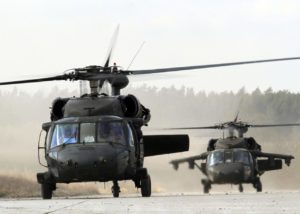 NASHVILLE — The attraction of commercial airline pay has lured helicopter pilots away from the U.S. Army, but career incentive pay may help keep them, Maj. Gen. William Gayler, the commander of the U.S. Army Aviation Center of Excellence in Fort Rucker, Alabama, told the Army Aviation Association of America's annual conference here on April 15.
The transition from rotorcraft to fixed-wing can take just three months of training for Army aviators, while civilians can spend thousands of dollars over several years to obtain a commercial fixed-wing license.
Helicopter personnel shortages due to commercial airline demands have occurred across the Army, and "Rucker was no exception," Gayler said, adding that the Fort Rucker pilot attrition rate has creeped up to 9.5 percent from 7 percent. "That's concerning," he said.
In addition, 28 percent of the Army's warrant officers are retirement-eligible, and Gayler has said that figure will climb to 33 percent by the middle of next year, as commercial airlines, which are also experiencing a shortage of pilots, aggressively recruit pilots from all the military services. Many Army warrant officers are also likely looking for new opportunities, as 43 percent of them have served more than 17 years.
Gayler has said that he is now authorized to offer three-year bonuses to aviators with up to 22 years of service because "if they all retire, we have no experience in our fleet."
For at least a decade, the Army has fallen short of its training goal of 1,300 pilots per year. Funding constraints held the Aviation Center of Excellence to about 900 pilots a year, most of whom were trained to fly utility aircraft like the UH-60 Black Hawk and CH-47 Chinook.
The last 10 years of training funding deficits saw the Army fall 731 pilots short of the service's authorization, and the Army is trying to dig out of that hole.
Because AH-64 Apache pilots take longer and are more expensive to train, the Army prioritized teaching pilots how to fly the utility aircraft to fill a general requirement for pilots in places like Afghanistan and Iraq.
While Gayler said on April 15 that the U.S. Army Aviation Center of Excellence is "in a good spot with modernization," he said that it is "critical" that the service improve survivability equipment so that the Army does not keep transferring such equipment between units.