The Army has awarded BAE Systems a $318 million contract modification to upgrade its M88 Recovery Vehicles to handle single-vehicle recovery of new Abrams tanks.
Under the deal, BAE Systems will upgrade M88A2 Heavy Equipment Recovery Combat Utility Lift Evacuation System vehicles to the next-generation M88A3 configuration outfitted with enhanced powertrain, suspension and tracks.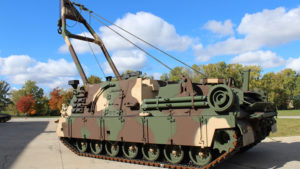 "We have partnered closely with the Army and industry partners to develop a solution that addresses the single-vehicle recovery gap. We are proud to continue to support the Army's recovery needs by providing a next-generation solution to effectively rescue disabled tanks from the battlefield," Dennis Hancock, recovery programs director for BAE Systems' combat vehicles business, said in a statement.
The current M88A2 requires two vehicles to perform a recovery of the new, heavier Abrams tanks.
BAE Systems said it developed the M88A3 over the last three years to configure a vehicle capable of performing a single-vehicle recovery of the latest versions of the tanks.
"The M88A3 also features a seventh road wheel to reduce ground pressure and new hydropneumatic suspension units that enable the track to be locked out for greater control when recovering vehicles," the company said in a statement.