NASA has awarded Lockheed Martin [LMT] a contract to build up to 12 new Orion deep exploration vehicles for the agency's Artemis crewed lunar exploration program, the company said Sept. 23.
The Orion Production and Operations Contract (OPOC) is an indefinite-delivery/indefinite-quantity (IDIQ) contract that includes an initial three Orion spacecraft worth $2.7 billion for Artemis missions 3-5. NASA then plans to order three more Orion spaceships for Artemis missions 6-8 worth $1.9 billion in fiscal year 2022, according to a Lockheed Martin press release. The company has served as the prime contractor during Orion's design, development, test and evaluation (DDT&E) phase.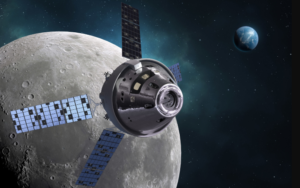 "This contract clearly shows NASA's commitment not only to Orion, but also to Artemis and its bold goal of sending humans to the Moon in the next five years," said Rick Ambrose, executive vice president of Lockheed Martin Space, in the release. "We are equally committed to Orion and Artemis and producing these vehicles with a focus on cost, schedule and mission success."
Lockheed Martin and NASA have been developing the first two Artemis spacecraft under the DDT&E phase, and have completed the Orion crew and service module for the Artemis I mission, an uncrewed mission to the Moon currently scheduled for 2020. Orion is intended to be launched on NASA's forthcoming heavy-lift Space Launch Shuttle, under development by Boeing [BA].
Work on the spacecraft for the Artemis II mission, the first crewed flight to the Moon scheduled for as early as 2022, is "well underway" at the Kennedy Space Center in Florida, Lockheed said.
The first Orion spacecraft under the new contract, Artemis III, is expected to transport the first woman and next man to the moon by 2024, and will dock with NASA's lunar gateway to land on the surface.
Up to six additional Orion spacecraft may be ordered under the IDIQ contract through Sept. 30, 2030, and Lockheed Martin plans to leverage spacecraft production cost data from the initial six missions to reach the lowest possible unit prices.
The company noted its use of advanced manufacturing technologies, material and component bulk buys and plans for reusable Orion crew modules and systems should all contribute to considerable cost reductions on these production vehicles.
"We have learned a lot about how to design and manufacture a better Orion — such as designing for reusability, using augmented reality and additive manufacturing — and we're applying this to this next series of vehicles. Driving down cost and manufacturing them more efficiently and faster will be key to making the Artemis program a success," said Mike Hawes, Orion program manager for Lockheed Martin Space in the release. "We've designed [Orion] to do things no other spacecraft can do, go to places no astronaut has been and take us into a new era of human deep space exploration."