The Defense Advanced Research Projects Agency is looking for small business partners and universities to assist with projects to advance the 'third wave' of artificial intelligence focused around partnering human user and machine learning systems, the agency's director said Monday
Steven Walker, director of DARPA, told attendees at a Center for Strategic & International Studies (CSIS) event the agency will continue releasing monthly project topics to award research funds for AI concept development work.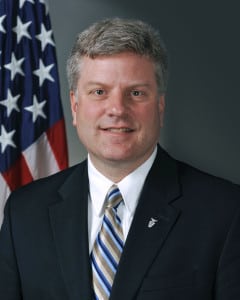 "You can submit a proposal and within 90 days you'll be awarded a contract," Walker said. "It's a great way for universities, especially with post-docs, to try something quickly, turn it around and then we hope that those will mushroom into the big DARPA programs."
Walker noted that DARPA's AI focus is on long-term outcomes that will assist the Pentagon's effort to retain a technological edge in the area against peer competitors, specifically China. "I still think in AI we're ahead. I believe in the foundations of AI and the research we are still leading the world. There's certainly no question that China, specifically, is doing better and catching up, and investing heavily in that field. But I still think we're ahead," Walker said. "From an application standpoint, they may have an advantage. They don't have the same privacy issues that we do. I'd rather have the privacy issues we have, and the ethics that we have here."
DARPA has released nine project topics to date, according to Walker, with plans to push ahead with specific focus areas with the agency expected to invest around $350 million-$400 million a year on AI-related efforts.
Upcoming projects will focus on the human-machine 'partnering' of AI's third wave, which Walker said follows the first wave of expert learning systems and the second wave on potential machine learning applications.
"We use the word 'partner' in how we want to see AI evolve in this third wave," Walker said.
DARPA is also focusing its AI outreach with academia as a key component for assisting with the new project topics.
"Universities provide two things to DARPA and the broader national security community, I believe. One is ideas. We talk about DARPA bridging the gap between the far side ideas and bringing that into the warfighter's capability space. I believe the universities provide those far side ideas," Walker said. "To win those tech races, we can't do it by protecting everything. It's not going to work. We need to do it by continuing to lead, continuing to work with the academic community, DoD laboratories, industry, both small and large companies."