NATIONAL HARBOR, Md. – Several months after the release of the Air Force's Science and Technology 2030 study, the new commander of Air Force Materiel Command (AFMC) is planning program review changes, standing up a program manager-like position to evaluate new "vanguard" efforts and pushing for more competition among S&T programs to improve the competition against near-peer adversaries.
The service unveiled its long-awaited S&T 2030 study in April, calling for the creation of a new chief technology officer position within the Air Force and announcing the creation of new program efforts dubbed "vanguards," or "focused research programs" that will quickly demonstrate the viability of leap-ahead capabilities
(Defense Daily, April 17).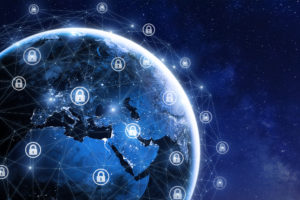 Four months into his appointment as the new AFMC commander, Gen. Arnold Bunch said Sept. 17 and 18 that progress is ongoing to move out on the recommendations of the strategy, with an implementation plan currently in development at the two-star level.
"We're not sitting by the wayside waiting; there are activities that are there that we need to get running," he told reporters Sept. 17 at the Air Force Association's Air, Space and Cyber conference here. Program officers need to be thinking about competition, he noted: not just the global competition that is prompting the Defense Department to boost research-and-development efforts to stay ahead of peer adversaries, but competition among internal program efforts to keep funding focused on top technology priorities.
AFMC is implementing a new review process that will evaluate a S&T program's progress, Bunch said.
"I want competition for projects to continue, I need to see them make progress," he said. "I need to know that they're on track to be able to transition. … If we don't do that, then maybe we need to offramp some of those projects."
The Air Force wants to refine the process for review of all S&T priorities, by including the service's Capability Development Council rather than simply going through the acquisition arm or the technology directorates, he added. "We're pulling that more up to the Air Force level [to identify] where are our gaps … across the entire enterprise," he said. The council includes both the Air Force vice chief of staff and major command leaders, who would now be able to bring up technology concerns of their own so the S&T community can adjust priorities, he noted.
Work is ongoing to determine which efforts will be considered as vanguard programs, and AFRL may stand up a new office to manage those programs across the entire laboratory's enterprise, Bunch added.
"What we're looking at is a capability that's a game changer. It's a technology advance that will be able to increase our warfighting capability, and it's something that we want to put the right emphasis on the transition," he said. "The goal of making them vanguards is to make sure we drop them over the finish line and we get them filled in."
The vanguard programs will represent about 20 percent of the Air Force's $2.8 billion S&T budget, former Air Force Secretary Heather Wilson said upon the study's release in April.
The command is still working to identify which S&T efforts will be designated as vanguard programs, but it is likely to include an effort called "Golden Horde" that seeks to network together several precision-guided munitions (PGMs), such as the GBU-39/B Small Diameter Bomb made by Boeing [BA] and the Joint Air-to-Surface Standoff Missile (JASSM) built by Lockheed Martin [LMT].
Air Force Magazine first reported in June that the Air Force decided to cancel an ongoing swarming cruise missile defense program called Gray Wolf to instead look for ways that PGMs could operate as autonomous entities.
Bunch told Defense Daily Sept. 18 that Golden Horde is among the current AFRL efforts that the command would "tee up to look at first to see if they're going to be vanguards." AFRL awarded a $100 million indefinite-delivery/indefinite-quantity contract under the Small Business Innovation Research program to Scientific Applications Research Associates Inc. in March 2019 for the Golden Horde Science and Technology demonstration effort.
The award notice said the contract would provide for "support research and development of emerging munition technologies, as well as integrated weapon demonstrations."
"The effort is conceptualized as a fast-paced Air Force Research Laboratory-led demonstration project executed under the auspices of the Team Eglin Weapon Consortium," it added. Work will be performed in Cypress, California, and is expected to be complete by December 2021. Fiscal 2019 research and development funds in the amount of $15 million were obligated on the first task order at the time of award.