The Army's lead for Long Range Precision Fires (LRPF) modernization said Monday the service is beginning to seek industry's input on support for the Extended Range Cannon Artillery (ERCA) autoloader and the Precision Strike Missile's (PrSM) multi-mode seeker.
Brig. Gen. John Rafferty, director of the LRPF Cross-Functional Team, also told attendees during a Heritage Foundation online event his team is also interested in exploring technologies that will allow future submunitions for ERCA to "connect and collaborate."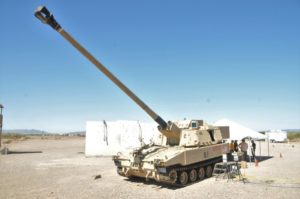 Rafferty reiterated that an initial battalion set of ERCA platforms, which is intended to allow an upgraded version of the M109A7 howitzer to reach ranges of more than 70 kilometers, is still on track for delivery in 2023.
"Our approach to ERCA is to improve range, lethality and then increase the rate of fire. We are on our path to the first two, getting the range and lethality in 2023, while we're working on improving the rate of fire."
The ERCA autoloader is geared toward meeting the goal of improved rate of fire, with the Army currently working on its prototype at the Armaments Center at Picatinny Arsenal in New Jersey as well as seeing where industry can support potential future concepts. 
"We've got two paths on the rate of fire, one is a government-designed autoloader and then we're going out to industry and non-traditional [partners] in a way to improve the rate of fire. I don't care if it's an autoloader. I don't care if there's cannoneers setting fuzes in there. But if there's a way that we can increase the rate of fire in an alternate way, I absolutely want to consider that," Rafferty said.
Rafferty previously told reporters the autoloader is expected to allow the howitzer to fire at a rate of six to 10 rounds per minute, with plans to test the system in a lab this year and on a howitzer in 2021 (Defense Daily, March 6). 
Army Applications Lab's previous work with non-traditional partners on an autonomous resupply concept program could also assist the LRPF CFT in autoloader support work, according to Rafferty. 
"I think we've cracked into this non-traditional community that now I think trusts us a little bit. We tried to break down the barriers for doing business with the government and with the Department of Defense. And now we think we've got some credibility based on some early prototyping we've been doing for autonomous resupply," Rafferty said.
For the PrSM multi-mode seeker, Rafferty said the Army has accelerated its timeline for potential industry support opportunities.
"We have an outstanding opportunity that has presented itself to us over the last five or six months, and that is to accelerate the integration of the multi-mode seeker. This multi-mode seeker on the front of the Precision Strike Missile will give us the ability to attack maritime targets in the Pacific and emitting [Integrated Air Defense Systems] in Europe," Rafferty said.
The Army completed a successful captive-carry test this June of its own seeker design, with the technology expected to be included as the initial technology update for PrSM in fiscal year 2025 (Defense Daily, June 4). 
Rafferty said the Army is planning another multi-mode seeker captive-carry test for this fall at White Sands Missile Range in New Mexico.
PrSM, which is being developed by Lockheed Martin [LMT], is set to replace the Army's legacy ATACMS missiles. The Army plans to award a production contract in 2021 and begin initial fielding in 2023
"We've got a great industry partner. We've got three successful flight tests. We feel pretty confident in our 2023 delivery," Rafferty said. 
Rafferty also called industry's support for "connected and collaborative munitions" with ERCA a key part of the improved lethality push along with extended ranges. 
"As we also think about 130 kilometers for ERCA, which is the objective range of the system, we've got a headstart on a couple of things from ramjet or the hypervelocity projectile," Rafferty said. "Those things have got to be hit-to-kill. And they can't be two hits for a kill. So those munitions are going to have to have some collaborative mechanisms to make sure that we maximize the value of all of those expensive munitions."