Boeing [BA] delivered the first two KC-46A Pegasus aerial refueling aircraft dedicated to training purposes this past weekend to Altus Air Force Base, Oklahoma, with two more due in the coming weeks.
The first KC-46 arrived at Altus Friday evening, according to the company. The second aircraft was delivered Saturday morning. Both aircraft will become part of the 97th Air Mobility Wing based at Altus.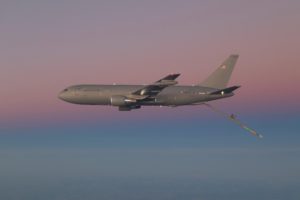 Boeing has delivered six KC-46 aircraft to date, with the initial four sent to McConnell AFB, Kansas, beginning Jan. 25, and the last two delivered to Altus, said Chick Ramey, a company spokesman. Pease Air National Guard Station, New Hampshire, and Seymour Johnson AFB, North Carolina, have also already been selected to receive new tankers.
The Air Force expects to receive about three aircraft per month, Secretary Heather Wilson said Jan. 25 at the KC-46 first delivery ceremony in Everett, Washington (Defense Daily, Jan. 25). Boeing is currently on contract to deliver 18 tankers in 2019, although two category-1 deficiencies related to the remote vision system (RVS) and aerial refueling boom remain on the program. (Defense Daily, Jan. 25)
The Air Force has agreed to fund the boom fix, as Boeing built to the contract's original specifications. The program team is currently developing a cost estimate for the fix, Will Roper, Air Force assistant secretary for acquisition, technology and logistics, said at a Feb. 6 media roundtable at the Pentagon.
"In the case of the boom, … specifically the A-10 [attack aircraft] drives a different load requirement than the international standard, which means you've got to change the actuator in it," he said. "It's been done before, so we know how to do it."
The remote vision system issue is a different story, he noted. Boeing will be footing the bill to pay for the changes to the RVS, which is built by subcontractor Collins Aerospace, now part of United Technologies Corp. [UTX]. The Air Force and its industry partners agreed to nine critical performance parameters that the system must pass before Boeing receives full payment for the tanker.
"We have a lot of work to do on RVS," Roper said. "There's still design work to do — hardware and software — to meet those nine critical performance parameters. So we will keep a lot of technical focus on that."