A Navy T-45C Goshawk trainer jet aircraft crashed on Aug. 16 in Texas, the service said Tuesday, at least the third such crash in the region in under two years.
The Navy said the crash occurred around 12:00 P.M. local time as the aircraft was approaching Naval Air Station (NAS) Kingsville, Texas. The T-45C is assigned to Training Air Wing 2 at NAS Kinsgville.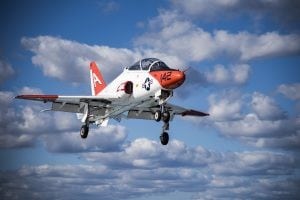 The instructor piloting the Goshawk ejected from the aircraft and the Navy reported no injuries.
The service said the aircraft crashed on an empty field on Navy property north of the NAS Kingsville airfield.
The Navy said the pilot was conducting a routine training flight that departed from NAS Kingsville and the incident is under investigation.
This comes almost a year after two pilots were injured after ejecting from a T-45C assigned to the same air wing and station, damaging at least three homes in the process (Defense Daily, Sept. 24, 2021).
The two-seat T-45C aircraft was built by Boeing [BA] to help train Navy and Marine Corps pilots. The service maintains over 190 of the aircraft.