The Office of Management and Budget's (OMB) PortfolioStat program, meant to lower federal IT costs, fell short on expected savings by 68 percent, according to a new report from the Government Accountability Office (GAO).
Federal agencies initially planned to save upward of $5.8 billion between FY '13–'15, they reported to the GAO in 2013. The estimated savings were later decreased to about $2 billion as of January 2015. The Departments of Defense (DoD) and Homeland Security (DHS) consisted of most of the difference, falling short by $2.6 billion and $925 million, respectively. All other agencies combined fell short by over $206 million.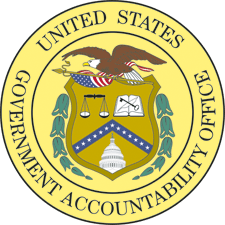 The OMB PortfolioStat program was launched in March 2012 requiring agencies to conduct annual review of IT investments and to make decisions on eliminating duplication. The second iteration was launched in March 2013 to eliminate duplication and achieve savings through specific actions and timeframes (Defense Daily, May 8, 2014).
Only nine of 26 agencies met or exceeded their revised planned savings goals, GAO said.
Additionally, GAO found that the $2 billion figure was understated, "likely by hundreds of millions of dollars". Although OMB made the Federation Data Center Consolidation Initiative (FDCCI), a data center consolidation initiative, part of PortfolioStat in 2013, agencies did not consistently include planned savings in their PortfolioStat reporting.
The GAO highlighted "inconsistencies in OMB and agencies' reporting make it difficult to reliably measure progress in achieving PortfolioStat savings." The OMB included FY '12 savings in reporting against the FY '13-'15 goal and agencies had additional cost-savings initiatives reported to GAO but not to OMB and vice versa.
Agencies selected by GAO for analysis explained how they reinvested PortfolioStat savings, but did not always provide supporting documentation. For example, DHS reported reinvesting $176 million from its data center consolidation and enterprise licensing agreements initiatives in multiple efforts, but did not provide supporting documentation.
However, five agencies maintained or increased their initial planned savings goals: the Department of the Interior, the National Archives and Records Administration, the National Science Foundation, the Social Security Administration, and the U.S. Army Corps of Engineers. Conversely, the Nuclear Regulatory Commission reduced its planned savings to zero, GAO said.
GAO made four recommendations for the Director of OMB to direct the Federal CIO to :
ensure that its reports to Congress about the results of IT reform efforts accurately reflect savings generated from all ProtfolioStat initiatives, including those associated with the FDCCI;
track agencies' planned savings and use them as a baseline for measuring reported actual savings;
require agencies to document specifically how the cost savings achieved from PortfolioStat have been reinvested; and
establish a timeframe for completing assigned PortfolioStat action items and hold agencies accountable for meeting those time frames.
A fifth recommendation is that the Secretary of Defense should direct the CIO to revisit the 25 cost initiatives GAO reported in GAO-14-65 to identify those that have achieved savings and cost avoidances and report those savings and avoidances to OMB.
The chairman and ranking member of the Senate Committee on Homeland Security and Governmental Affairs, Ron Johnson (R-Wis.) and Tom Carper (D-Del.), respectively, endorsed the report's findings.
"It's no secret that much of the federal government's $80 billion annual information technology budget is spent inefficiently, is not effective, and lacks accountability. That needs to change. From redundant data centers to antiquated IT systems to failing projects, the Government Accountability Office has identified tens of billions of dollars that could be saved by better managing the federal government's IT portfolio," Johnson said.
"Yet, as this report shows, some agencies seem to be content with business as usual. The Office of Management and Budget's leadership in this area is lacking.  I encourage the OMB and other agencies to implement the GAO's recommendations without delay.  As the administration works to implement the committee's Federal IT Acquisition Reform Act, I will continue to keep a close eye on its progress to ensure agencies are meeting the letter and spirit of the law," Johnson added.
"Unfortunately, this report finds that less than half of federal agencies have met their PortfolioStat savings goals. Agencies must make IT management a higher priority, and seize the potential to achieve billions in cost savings by continually scrutinizing IT investments and taking more innovative steps to reduce waste and duplication," Carper said.      
"Last year, I worked with my colleagues to address some of the federal government's IT management challenges in the Federal Information Technology Acquisition Reform Act (FITARA), which was signed into law this past December. While passing FITARA was an important step to improving government wide IT management, proper implementation is key to its success. This report makes it clear that more work needs to be done. I will continue to work with my colleagues in Congress and the administration to ensure agencies follow the recommendations in this report and take significant steps to improve the management of their IT portfolios," Carper added.