The Army said Thursday it has selected two companies' ventilator designs for development to assist with the ongoing coronavirus pandemic response, with plans to manufacture 10,000 ventilators over eight weeks.
Spiro Devices and AirMid Critical Care Devices each received $100,000 for their ventilator designs through the Army's xTechSearch emerging technologies program.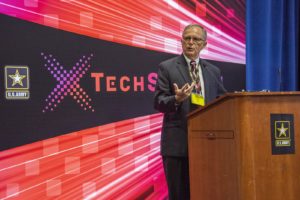 "On April 5, the Army put out a call for ideas for a low-cost, easily manufactured, deployable ventilator that could operate in austere and rural environments," the Army wrote in a statement. "In just 10 days, 150 American companies, academic institutions and individuals submitted their concepts, with a chance at winning $5,000 if invited to present their ideas."
The Army is keeping the competition open with no deadline in place and will continue accepting submissions for low-cost ventilator designs.
"Leveraging unique authorities in Title 10 [guidelines], the Army xTech Program will help guide the companies through the process to develop their ideas into products, using engineering and manufacturing development contracts and the provisions detailed in the Other Transaction Authority, which can serve as a bridge from prototype to production," the Army wrote.
Spiro Devices proposal was a breathing bag-based solution, while AirMid Critical Care Products pitched a bellows-based design, with both meeting criteria for technical viability, potential for regulatory compliance and the amount of time needed for delivery.