Senior Army officials told reporters Thursday they do not expect the ongoing pandemic to delay initial fielding of any major modernization systems, with mitigation plans in place to make up for likely test and evaluation delays in the near-term. 
"There may be some slips in some key decisions and some soldier touchpoints. What I believe is the most important thing is when we promised our soldiers we would deliver that capability. And when you look at it from that standpoint, we can make up the time that we've lost,"  said Gen. Mike Murray, head of the modernization-focused Futures Command. "For every individual program there's little places where we're massaging and working to make up that time. We have been successful, given what we know today, across all the priority programs."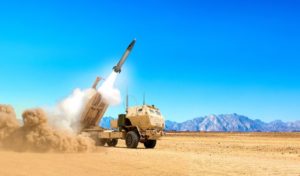 While the Army is on track to meet its planned first unit equipped dates, Murray did confirm the a limited user test for the IBCS future air and missile defense command system has been pushed from this spring to late summer or early fall and the service expects a six-week delay in accepting Next-Generation Squad Weapon prototypes from the three competitors.
The Army previously confirmed the third soldier touchpoint for the Integrated Visual Augmented System headset has also been delayed from this summer to October, while maintaining a goal to stick with a first unit equipped date for late fiscal year 2021 (Defense Daily, April 22).
Murray did note the third flight test of Lockheed Martin's [LMT] Precision Strike Missile offering is still on as planned for April 30.
Bruce Jette, the Army's top acquisition official, said the service believes it will be able to recover from any timeline slips across its 600-program portfolio.
"We've made a great deal of effort to facilitate their cash flow, working with the primes across the board to stay as close to on schedule as possible," Jette said. "We don't see any FUEs (first unit equipped) changing. We are tracking programs, to include all of the [signature modernization systems]. But for all of our 600 programs, none of them are at risk of not being able to recover without significant slip at this point."
Secretary Ryan McCarthy said the Army's latest round of its night court process to find funds that can be shifted from low priorities to modernization efforts remains on track, with final decisions nearly in place for the FY '22 budget.
"It's a challenge because a lot of folks are working virtually, but the same level of rigor we've imposed on the system is being applied again," McCarthy said.