The Army has selected six companies to participate in a new cohort to find field artillery autonomous resupply (FAAR) technologies, with the chance for each to pitch their concepts to officials at the end of the 12-week program in April.
The FAAR cohort is part of the new Army Capability Accelerator approach to help bring in more non-traditional partners on applied research projects as Futures Command looks for emerging technologies that can be applied to major weapon systems programs.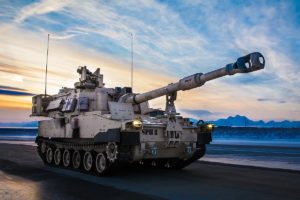 "Sourced from across the country, the selected companies represent a range of technologies and expertise all aimed at developing autonomous resupply capabilities," Army Futures Command officials wrote in a statement. "Designed for small businesses and companies that don't typically work with the federal government, the program connects qualified companies that want to grow a new line of business into the DoD with Army stakeholders who want to speed capability development, transition to a program of record, or de-risk and inform requirements."
The six companies selected for the FAAR cohort, which will support the Long-Range Precision Fires Cross-Functional Team, are artificial intelligence company Actuate, robotics firm Apptronik, Carnegie Robotics, Pratt & Miller Engineering, advanced unmanned systems developer Neya Systems and visualization provider Hivemapper.
The cohort officially started on Jan. 13 after each company received $150,000 to work on their autonomous resupply concepts, with the program culminating with capability presentations on April 12.
"We've spent the past year working to introduce commercial business models that translate to the Army and can help evolve its approach to capability development," Porter Orr, Army Applications Lab's production innovation lead, said in a statement. "We're helping nontraditional companies build a new line of business into the government. And that's important, but it's just as important that we're giving Army leaders a choice between writing a large check or doing nothing. This is a way for them to get more insight—more confidence—in a solution before purchasing it. That will mean a higher probability of success in the field."