The U.S. and France will run "common exercises" between the two countries' new space commands, with leaders of the new space-focused entities already working on coordination efforts.
Defense Secretary Mark Esper told reporters on Monday during a press briefing with Florence Parly, France's minister of armed forces, that cooperation between the two countries on space activities is required for the shift to competition with countries such as China and Russia in the new domain.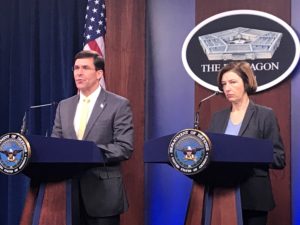 "Our nations have been in space for many, many years. It's just been recently that both China and Russia have pushed us to the point where it now became a warfighting domain. As a result, the United States has stood up Space Command and, just recently, Space Force to make sure that we can preserve space as a global commons," Esper said.
France established an operational space command within the French Air Force last fall that will also specifically handle weaponization of the country's satellites and space-based assets.
"We have decided to invest strongly in space," Parly said. "We have completely renewed our satellites and military equipment in space. And more than that, we feel the necessity to protect our assets in space. This is something that we share together [with the U.S.]."
Parly said officials leading France's new space command, located in Toulouse, have already coordinated discussions with Gen. John Raymond, head of U.S. Space Command, as well as the future leader of U.S. Space Force. 
"The cooperation between the United States and France is extremely strong and fruitful. The United States made an important decision in organizing a Space Force. And our respective Space Commands have a strong dialogue between each other," Parly said.