This week's meeting of national armaments directors from 45 countries, the European Union, and NATO resulted in plans to stand up smaller working groups to help form multinational strategies aimed at addressing defense industrial base and supply chain challenges for efforts to support Ukraine and more broadly, according to the Pentagon's top acquisition official.
"These working groups will define multinational strategies to mitigate supply chain constraints, increase production and pursue not just interoperability but interchangeability," Bill LaPlante, under secretary of defense for acquisition and sustainment, told reporters on Friday.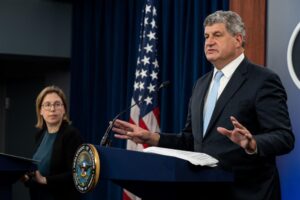 LaPlante chaired the Sept. 28 meeting in Brussels, which he said helped "to continue the conversation and drive actual progress" toward solving challenges associated with restarting production lines of critical munitions or working to increase production capacity for select capabilities.
"For the first time, under the auspices of the Ukraine Defense Contact Group, we had all of the acquisition and defense industrial base specialists in the room together," LaPlante said. "Throughout the day, we heard from nearly 20 of our partners, who discussed efforts they're doing to strengthen and expand their own industrial bases and deal with supply chain issues, all the issues we are all dealing with right now."
LaPlante said there wasn't much concern among the group about the stockpile status of specific equipment, but rather focused on how to collaborate to address supply chain challenges and assessing industry's call for "demand signal."
"What's really meant by [demand signal] is industry, both in our country and around the world, wants to know is there a sustainable, longer-range plan for these production [lines], so they can invest themselves and put production lines together that will be enduring," LaPlante said. "When you follow that discussion, you get to things like multi-year contracting ideas, pooling our requirements together so we can maybe have combined procurements so there's larger quantities that's more stable for the industrial base and co-production [as well]."
Earlier this month, LaPlante said the Pentagon may need to look at whether it uses multi-year contracts as an option for buying critical munitions to ensure supply chain stability in the future (Defense Daily, Sept. 7).
"We, in the department, and with the Hill need to give a better plan. This is what I think [industry] is asking for, and I agree with it, that we're committed to these areas," LaPlante said during a discussion at the Defense News conference on Sept. 7. "We buy munitions and many of these things once in a single year. We don't do multi-year contracts. We do multi-year contracts for ships. We do it for airplanes. We don't do it for these other munitions. We need to do it, because that will stabilize the supply chain. That will send the signal to industry to say [the Pentagon] is in it for the long haul."
A main challenge for increasing production capacity or restarting certain production lines, according to LaPlante, is the supply chain aspect of ensuring subcomponents are in place and lines are primed to handle increased work, less so the contracting piece and getting money to industry.
LaPlante specifically cited obsolescence challenges with key parts such as solid rocket motors, casings for certain types of weapons, microelectronics, ball bearings and actuators.
"A lot of times, the key items that make these things [go], they take a year or two [to get]. They're long-lead items, something you have to order well-ahead," LaPlante said.
Sasha Baker, deputy under secretary of defense for policy, told reporters that Volodymyr Havrylov, Ukraine's deputy defense minister, addressed the meeting in Brussels as well with the group noting it "needs a mix of different mechanisms for providing assistance to Ukraine."
"The level of dialogue and unified action among the participants I think really underscores our unwavering global commitment to stand with Ukraine as it defends its sovereignty in the face of Russian aggression," Baker said.
Havrylov, during an address at a National Defense Industrial Association conference in Austin, Texas last week, reiterated his country's request for the U.S. to provide ATACMS missiles and fighter aircraft to assist in the fight against Russia's ongoing invasion (Defense Daily, Sept. 21).