President Joe Biden announced Wednesday the Pentagon has stood up a new China Task Force to assess the department's force posture and technology needs for future competition with Beijing.
Biden said the task force is expected to provide recommendations within the next few months to Defense Secretary Lloyd Austin "on key priorities and decision points so that we can chart a strong path forward on China-related matters."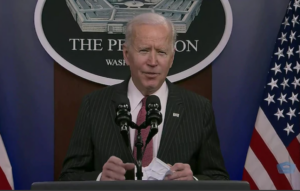 "We need to take on the dangers and opportunities of emerging technologies, enhance our capabilities in cyberspace and ensure that we are positioned to lead a new era of competition from the deep sea to outer space. And we need to meet the growing challenges posed by China to keep peace and defend our interests in the Indo-Pacific and globally," Biden said during his first remarks at the Pentagon since becoming president.
Ely Ratner, a special assistant to Austin, will lead the 15-member task force, which will include participants from the Office of the Secretary of Defense staff, the Joint Staff, the services, the combatant commands and representatives from the intelligence community, according to the department.
Biden also reiterated his view that preparing for competition with China will "require a whole-of-government effort, bipartisan cooperation in Congress and strong alliances and partnerships."
"That's how we'll meet the China challenge and ensure the American people win the competition of the future," Biden said.