This week Fincantieri Marinette Marine began construction on a new building that it will use to help build up to two new Constellation-class (FFG-62) frigates at once.
"Building 34 is a key element to our Constellation-class frigate production. This will allow us to complete construction of two 500-ft. ships at the same time inside of a massive climate-controlled facility," Dario Deste, president and CEO of Fincantieri Marine Group, said in a statement on Feb. 9.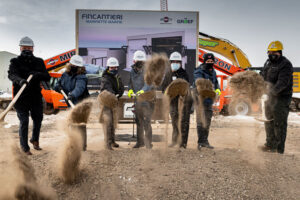 The company noted Building 34 is set to be the largest building in the Marinette, Wis., facility's history.
The Navy awarded the company a $795 million contract last April to start building the ships, with options that would raise the total value to $5.6 billion if all 10 planned initial frigates are built. The frigates are based on the multi-mission FREMM frigate used by the Italian and French navies (Defense Daily, April 30).
Fincantieri said Building 34 will cost millions of dollars to complete and is part of a recent $200 million shipyard capital expansion underway in Wisconsin. Other projects include building the largest ship lift in the U.S. and improvements to other buildings to expedite upcoming frigate fabrication.
The company noted sister shipyard Fincantieri Bay Shipbuilding, in Sturgeon Bay, also started construction on several new buildings in the past year. That facility will be "where large portions of the frigate's hull will be constructed, then shipped to Marinette where they will be joined together inside of Building 34 as the ships are erected," the company said.
Company officials kept the Building 34 event small to maintain precautions amid the COVID-19 pandemic.
"We are improving our facilities, but also adding to our workforce, with engineers, project managers, and nearly every skilled trade. We are increasing our technical training pipeline, with solid partners like Northeast Wisconsin Technical College," Deste added.
The Navy originally planned to buy up to 20 frigates, but as of the Navy's December 30-year shipbuilding plan the service is planning to add a second shipyard to build more total frigates over the years (Defense Daily, Dec. 10).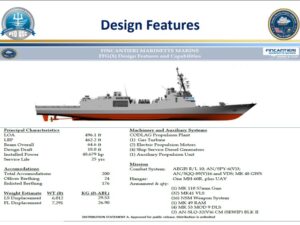 The Biden administration has not yet made plans to change the long-term plans. However, while recently confirmed Deputy Secretary of Defense Kathleen Hicks said during her confirmation hearing that the 30-year report has interesting operational themes including growing the number of small surface combatants, she also saw some things "as flags" and the administration will assess the plan for themselves "and make any adjustments necessary" (Defense Daily, Feb. 2).