The Army plans to begin delivering equipment for the first prototype hypersonic weapon capability to a unit in March, who will then begin training on the system in October to prepare for a joint flight test in early fiscal year 2022.
A U.S. Army spokesperson confirmed to Defense Daily
the equipment will cover all components of the Army Long Range Hypersonic Weapon (LRHW) prototype battery except for live rounds, which are not set to be fielded until FY '23.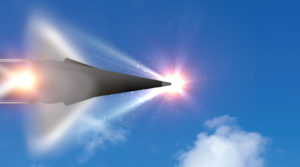 "The intent of delivering equipment to the battery as soon as possible is to ensure soldiers can train and become familiar with operating the system, and participate in future tests, so when equipment fielding is finished in FY '23, the battery will be fully operational to execute the mission," the spokesperson said.
Defense News first reported the Army's intent to begin delivering the hypersonic battery equipment this spring, which will begin with training canisters followed by launchers and a battery operations center.
"Fielding to an active duty unit consists of more than developing and delivering equipment, and the Army is also coordinating across all mission areas to ensure the unit is prepared, trained, and resourced to execute the Long Range Hypersonic Weapon mission," the spokesperson told Defense Daily.
The hypersonic weapon development is a joint effort with the Navy designing the Common Hypersonic Glide Body (C-HGB) and the Army overseeing production.
The Army has previously tapped Lockheed Martin to serve as the weapon systems integrator for the LRHW, which will be fired from a truck, while Dynetics is tasked with producing the (C-HGB) (Defense Daily, Aug. 30, 2019).
Last March, the Army and Navy conducted a successful launch of the C-HGB from the Pacific Missile Range Facility in Kauai, Hawaii, which included flying the glide body at hypersonic speed to reach a designated impact point (Defense Daily, March 20).
Additional flight tests are planned for 2021 as the Pentagon pushes for initial fielding in FY '23.
The unit receiving the prototype LRHW battery will not participate in those tests, but rather train on the system to prepare for the joint flight test in early FY '22 followed by subsequent tests in the fourth quarter of FY '22 and second quarter of FY '23.
"The tests will progressively increase soldier participation in order to exercise the realistic kill chain from receipt of fire mission to launch," the Army spokesperson said.