President Biden addressed strategic stability risks in his virtual meeting Monday with his Chinese counterpart Xi Jinping, according to a senior administration official, with the two leaders agreeing to hold further discussions on the issue.
National Security Adviser Jake Sullivan said on Tuesday that, following the leaders' talk, the U.S. and China plan to have "an intensification of engagement" on multiple levels, to include on "sensitive and consequential issues" such as arms control matters.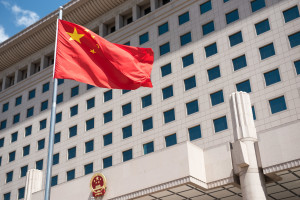 "Without going into too much detail on incredibly sensitive issues, President Biden did raise with President Xi the need for a strategic stability set of conversations around [those issues]. That needs to be guided by the leaders and led by senior, empowered teams on both sides that cut across security, technology and diplomacy. And the two leaders agreed that we would look to begin to carry forward discussions on strategic stability," Sullivan said during a Brookings Institution discussion.
The Biden-Xi virtual meeting arrived after the Pentagon on Nov. 3 published its latest report on China's military activities, including an assessment that Beijing may have an arsenal of at least 1,000 nuclear warheads by 2030, which would be an increase of five times over the 200 warheads the country is estimated to maintain currently (Defense Daily, Nov. 3).
Sullivan said Biden brought up areas where China's actions could be destabilizing and that the two leaders discussed issues where "miscommunication or miscalculation could lead to challenges in the relationship."
"[President Biden] stressed the need to develop ways to manage strategic risk and to put into place common sense guardrails to ensure that competition doesn't veer into conflict," Sullivan said. "What President Biden and President Xi really reinforced to one another at multiple points last night was that this relationship needs to be guided by consistent and regular leader-to-leader interaction and for that…to lead to a series of taskings to senior and empowered interlocutors on both sides who can engage not in dialogue for dialogue's sake but on practical, tangible issues one-by-one to see where we can make progress. And where we can't make progress, we're ensuring we reduce the possibility of friction and conflict."
A group of Democratic lawmakers sent a letter to Biden ahead of his meeting with Xi urging him to prioritize nuclear weapons strategic agreements in discussions with China, to include proposing that the U.S. invite Beijing to observe on-site inspections like those under the recently extended New START Treaty with Russia (Defense Daily, Nov. 5).
"There is less maturity to that in the U.S.-China relationship. But the two leaders did discuss these issues and it is now incumbent on us to think about the most productive way to carry it forward from here," Sullivan said, comparing the level of strategic stability talks with Russia.
Air Force Gen. John Hyten, the outgoing vice chairman of the Joint Chiefs of Staff, said in September he was concerned over the Pentagon's lack of dialogue with China on strategic stability issues, citing Beijing's "almost unprecedented" nuclear modernization initiative (Defense Daily, Sept. 13).